---

Home

History

Stallions & Colts

Mares & Fillies

For Sale

Reference Horses

Books

Links

Contact Me
---
Abu Farwa 1960
Chestnut Stallion foaled May 22, 1940.
Bred by W. K. Kellogg Institue, Pomona, Calif.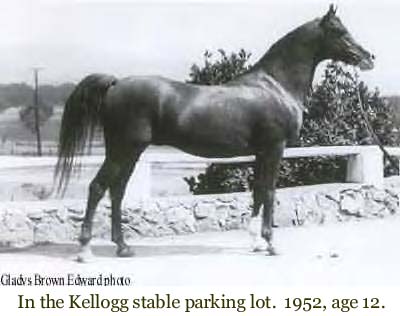 Abu Farwa was one of the greatest American-bred Arabian progenitors of the 20th century.
Bred by the old (1925-1963) Kellogg Ranch at Pomona, California, Abu Farwa's registration number of 1960 indicates that when he was on foaled on May 22, 1940, almost exactly 50 years after ongoing Arabian horse breeding began in the United States with the birth of Anazeh 235 on May 10, 1890, there were less than 2,000 living registered Arabian horses in the United States (many of the horses registered prior to #1960 would have been dead by 1940).
Abu Farwa was one of 28 foals in the 1940 Kellogg foal crop. Another of this same crop which became great was Sureyn 1886.
As a weanling, Abu Farwa was sold for $400, which was the going price for quality weanling (6 to 12 months) Arabian colts in 1940. His buyer was Paul Paul of Fresno, California. In 1942 Mr. Paul sent Abu Farwa down to Covina, California, to H. H. Reese to be sold. Reese had been the manager of the old Kellogg Ranch and was the man who had established its breeding program and standards, and who, by Mr. Kellogg's arrangement, continued on as an advisor until Reese became terminally ill in about 1962. In 1942 Mr. Reese had his own Arabian horse horse establishment at Covina. He immediately recognized the tremendous potential of the 2 year old Abu Farwa and bought the colt himself. Thus was history made. Abu Farwa became the third and youngest of the trio of Reese stallions which were to become for many years the three leading Arabian sires in North America - Alla Amarward 1140, Ferseyn 1381, and Abu Farwa.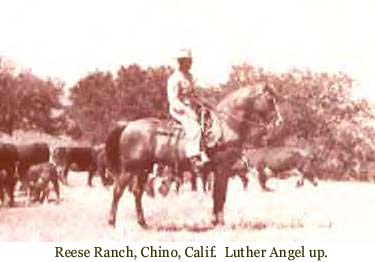 Abu Farwa was trained to ride both western and English by the old traditional standards of that time. He was shown in halter and under English tack successfully, but on a very limited basis, and was a champion. Although not trained for stock work, in later years he was sometimes utilized to help herd Reese cattle on Reese's Chino, California, ranch.
Mr. Reese leased Abu Farwa out on at least three occasions: to Catherine Richardson, to Dr. Harold West, and during 1952-1953 to Abu Farwa's birthplace, the Kellogg Ranch, which was then California State Polytechnic College. At Kellogg's he was used as a sire and also in the Sunday exhibitions. For these the 12 year old Abu Farwa was finished into a polished 3-gaited horse by the master trainer Charles A. Smith. In those days 3-gaited Arabians were exhibited natural with none of the gimmickry and artificiality that came later when 3-gaited became "park horse."
Not only did Abu Farwa have a fine, high, and airy trot, but he also showed indication of having running speed. When turned out at liberty in the very large Kellogg show ring (big enough for an 8-horse Percheron hitch to run its length flat out full tilt, pulling a big show wagon), Abu Farwa seemed to coast effortlessly and with great latent power the length of this ring, which clearly was not long enough for him to hit his full speed potential.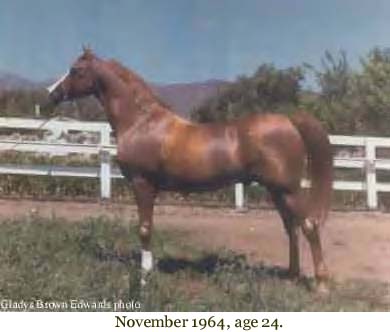 Eventually it was shown that Abu Farwa was, indeed, a source of running speed when his blood proved very successful on the American Arabian flat racing track. Abu Farwa also became known for siring good trotting action, and for the ability of his blood to do well in endurance. As is often the case with Arabians, those which trot well (by the old traditional standards, not by modern artificial standards) are also athletic in many other endeavors.
When Mr. Reese became chronically ill he sold the aged Abu Farwa to Charles Doner of Elsinore, California. Abu Farwa lived under Mr. Doner's good care for many more years, not dying until July 27, 1972, at age 32. He had sired his last foals at age 30. During his life Abu Farwa sired a total of 277 registered Arabian foals.
Abu Farwa stood 15-1 hands. He was a truly magnificent horse who commanded attention, even when simply standing relaxed. He was well made with good legs, and he had charismatic Arabian type and quality. His head was fine, although not extreme, and he had the small, smart ears Arabians are supposed to have. His neck was ideal in its length and the way it came high out of his shoulders, and also in its distinctive Arabian mitbah (a special Arabian breed trait arch and shape of neck, including an Arabian way of attachment of head to neck, resulting in a particular line of the throat that was traditionally highly desired in Arabians). He had excellent shoulders and withers. Abu Farwa had a particularly glorious high, fountain Arabian tail carriage. There was also his unforgettable trot, already mentioned.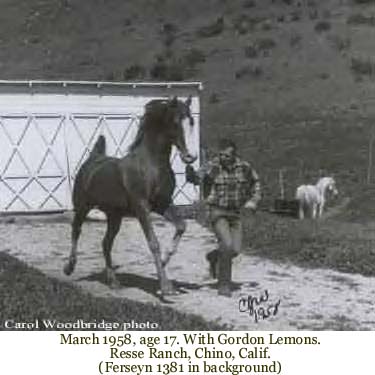 In temperament, Abu Farwa was a noisy stallion in the stable and at breeding time, but he was manageable to work around and ride. However, his attention tended to wander to the far horizon, even when simply being groomed. A rider had to keep reminding him about his job which made him a more difficult horse to ride than one which keeps its attention and interest focused on its rider and the job at hand. Another interesting thing about riding Abu Farwa was that as the ride progressed he seemed to get bigger and bigger with more and more latent power.
Abu Farwa came by his excellent qualities naturally. Rabiyas, his sire, bred by W. R. Brown at Maynesboro Stud, Berlin, New Hampshire, became one of the most important Kellogg sires. Rabiyas was an impressive, well made stallion with outstanding trotting ability; his excellence at that gait was inherited. Rabiyas was a double great-grandson of Sidi, a horse well known in his day for his outstanding trot which came to him though his sire, Khaled, who was both a son and great-grandson of *Naomi, a mare renowned for her excellent trot. Rabiyas's dam was the great action mare Rabiyat (who was also dam of Gazya, who produced Zadir). Rabiyat got her fabulous trot from her sire, Rehal, who was not only a son of Sidi, but also a grandson of one of the greatest action progenitors of all time, *Berk, who was sired by Ahmar, acclaimed for his outstanding trot. Ahmar, in turn, was sired by the desert bred Azrek, the founding and enduring source of outstanding trots in Crabbet stock. Azrek's truly exceptional trotting ability was particularly and repeatedly noted by Lady Anne Blunt, and became widely acclaimed and recognized.
Abu Farwa's sire line was one of the Arabian horse's greatest, and some consider that Abu Farwa was perhaps an apex of this great line: Abu Farwa / Rabiyas / Rahas / Gulastra / *Astraled / Mesaoud / Aziz II / Harkan / Zobeyni / Barq. Mesaoud, bred by Ali Pasha Sherif in Egypt, was, of course, one of the greatest and most influential of the sires used at Crabbet Stud in England.
It is of interest to note that Sidi brought in the only non-Crabbet part of Abu Farwa's pedigree. Sidi, whose 2nd dam was the great Crabbet mare *Rose of Sharon, had for the rest of his pedigree the wonderful old English lines of the pre-Crabbet imports brought to England from the desert by Sandeman and Chapman. Also in Sidi's pedigree were the famous and remarkable Indian racing Arabian stallions *Kismet and Maidan, both desert breds which had been taken to India for racing and then later had been taken by their British Army officer owners to England. This is extremely valuable blood and may have contributed to the unquestionable ability of Abu Farwa to propagate running speed.
Abu Farwa's dam was the beautiful and very sweet tempered mare *Rissletta, bred by Crabbet. Her sire was Naseem, one of the most beautiful of the Skowronek sons, and probably the source of Abu Farwa's neck qualities. *Rissletta's dam was Risslina, granddaughter of *Nasik and *Berk; the latter the great action progenitor already mentioned (thus Abu Farwa had two lines to *Berk, so no wonder his trotting ability, and Abu Farwa also had two lines to *Nasik, who trotted rather well himself).
Abu Farwa's dam line was desert bred Rodania, without doubt one of the greatest family lines in recorded Arabian horse pedigree history, and one with widespread influence in many parts of the Arabian horse breeding world. This dam line is the one most often seen in Arabians going back to Crabbet dam lines (although it is far from the only dam line seen in Crabbet stock). Relatively recently some people have started to mistakenly believe that Rodania was a source of good trotting ability in Crabbet stock. This misconception must be addressed.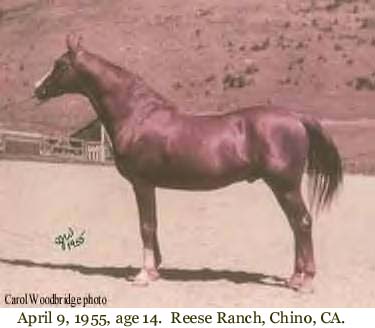 No doubt this mistaken idea began when some noticed that Rodania in fact does appears in the pedigrees of many good trotting modern individuals of Crabbet descent, but these people appear to have failed to notice that in those same pedigrees Azrek is always there too. Rodania had nothing to do with propagating exceptional trotting ability. Her own trot was evidently just average. This latter assumption becomes clear when one realizes that never once, in any of her records, writing, or notes, did the very meticulous Lady Anne Blunt (founder of Crabbet Stud in 1878, together with her husband, Wilfrid Blunt) ever mention Rodania's trot. None of the three original Crabbet stud books, in Lady Anne Blunt's own hand, which I have studied mention Rodania's trot at all. Yet, the superior trots of Azrek, Ahmar, and *Berk are strongly acclaimed, and the outstanding trot of the desert bred mare Queen of Sheba. None of Lady Anne Blunt's other published opinions about the trot ever mention Rodania either, although they do mention the fulsome praise Lady Anne gave to the trots of Azrek, Ahmar, and *Berk, and the favorable mention of the trot of Queen of Sheba. In other words, Lady Anne Blunt was careful to mention individuals with exceptional trotting ability - and even in the case of one Crabbet individual a lack of trotting ability - so the fact that Rodania was never mentioned by Lady Anne in connection with the trot clearly means the mare had neither a plus nor a minus trot, but simply an average trot with nothing to pass on in the way of a superior trot (although she, of course, passed on many other very enduring good qualities). It is only faulty and/or much too limited research, apparently combined with lack of knowledge about ancestral Crabbet individuals, that has led to the mistaken modern notion of some that Rodania was a source of good trotting ability in Crabbet lines. This erroneous belief could be counterproductive by causing breeders to ignore or even discount the real, true, and very strong source of trotting ability in Crabbet stock - Azrek.
Abu Farwa was an extremely prepotent sire of beautiful, high quality Arabians of utilitarian usefulness. His get won many, many championships in the show ring, both in halter and performance. As has been mentioned, his blood has also excelled in flat racing and endurance, and is still highly sought in those circles today.
Although Abu Farwa has been dead since 1972, several modern Arabian breeders still pattern their breeding programs around him, using as many lines to him as possible. In the 21st century this great stallion's influence seems to continue strongly in a most remarkable and durable manner.
With Permission from the Author, Carol W. Mulder. Copyright © 2006,2008 by Carol W. Mulder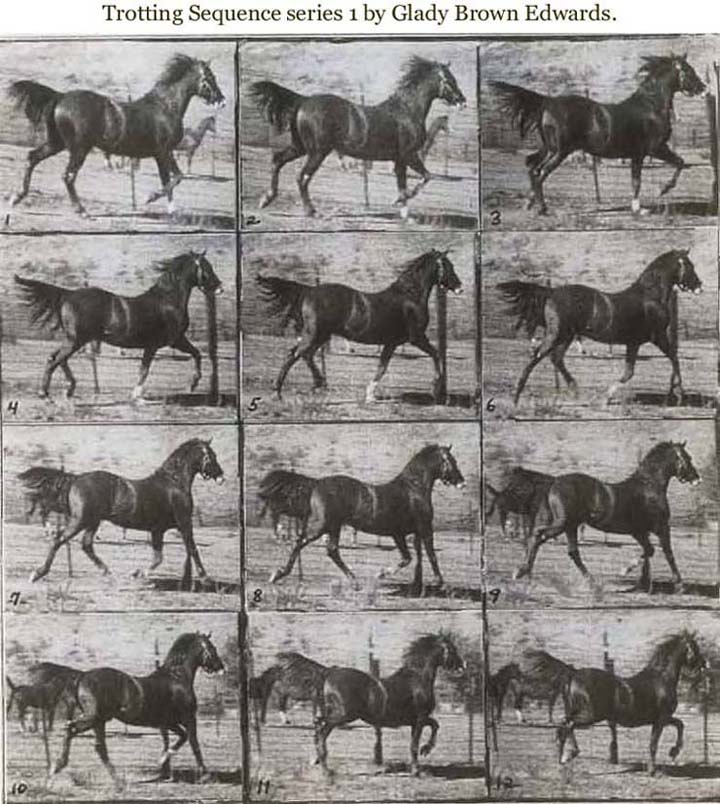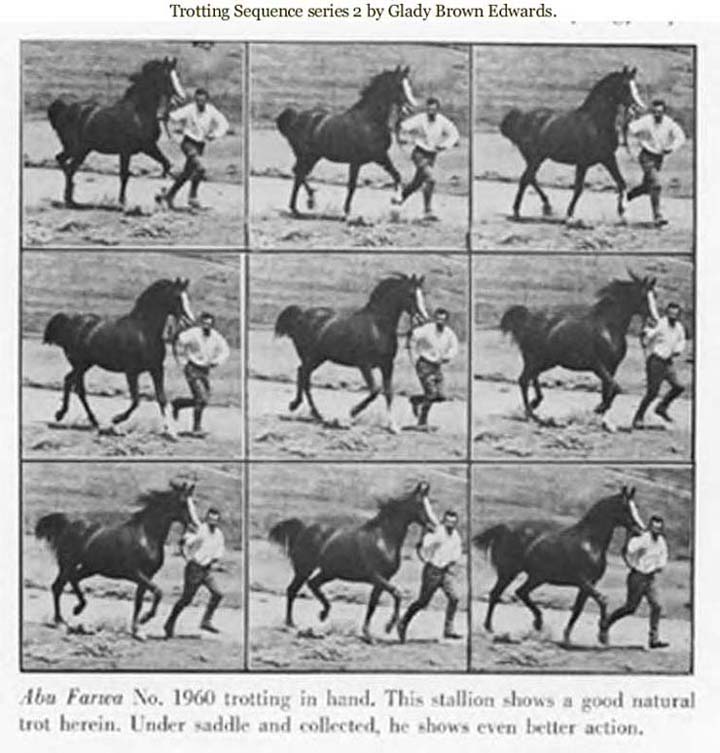 Pedigree for Abu Farwa
Sire line: Barq
Family: Rodania
Sire
RABIYAS 1236
C 1936
W. R. Brown
New Hampshire
RAHAS 651
C 1928
W. R. Brown
New Hampshire
GULASTRA 521
C 1924
*ASTRALED 238
MESAOUD
QUEEN OF SHEBA
GULNARE 278
*RODAN 258
*GHAZALA 211
RAAD 474
C 1922
SIDI 223
KHALED 5
ROSA RUGOSA 166
*RIJMA 346
RIJM
RISALA
RABIYAT 577
B 1926
W. R. Brown
New Hampshire
REHAL 504
C 1923
SIDI 223
KHALED 5
ROSA RUGOSA 166
*RAMIM 348
*BERK 343
RIM
*ROKHSA 351
B 1915
*NASIK 604
RIJM
NARGHILEH
ROKHAMA
*ASTRALED 238
RABLA
Dam
*RISSLETTA 1201
C 1930
Crabbet Stud
England
NASEEM
G 1922
Crabbet Stud
England
SKOWRONEK
G 1908
IBRAHIM
HEIJER
LAFITTE
JASKOLKA
RYMNIK
EPOPEJA
NASRA
B 1908
DAOUD
MESAOUD
BINT NURA II
NEFISA
HADBAN [1878]
DAJANIA
RISSLINA
C 1926
Crabbet Stud
England
RAFEEF
C 1917
*NASIK 604
RIJM
NARGHILEH
RIYALA
*ASTRALED 238
RIDAA
RISSLA
C 1917
*BERK 343
SEYAL
BUKRA
RISALA
MESAOUD
RIDAA
Go Back
---

Home

History

Stallions & Colts

Mares & Fillies

For Sale

Reference Horses

Books

Links

Contact Me
---
Janice Siders (925) 275-1955
Diablo Vista Arabians
Website built and maintained by Azria Arabians
---