---

Home

History

Stallions & Colts

Mares & Fillies

For Sale

Reference Horses

Books

Links

Contact Me
---
Aurab 12488
Chestnut Stallion foaled August 7, 1957.
Bred by E. E. Hurlbutt, Saugus, Calif.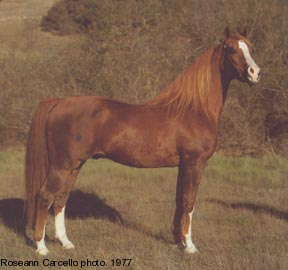 Aurab was one of the special Arabian stallions of the 20th century, regardless of location.
There were so many things about Aurab that were superlative. To begin, he was of almost perfect conformation and balance with outstanding legs. His hind legs were particularly noteworthy in their perfect alignment and proportion, and also with wonderful stifles, gaskins, and hocks. He had good bone and joints. His shoulders were absolutely superlative. Not only were they of ideal 45° angle, but they were also long, well laid-back, and extremely clean and well defined. His withers were just as good. His neck came out of his shoulders beautifully high, as is ideal. Aurab had a good back, strong loins, and smooth coupling. His hindquarters were as superb as his shoulders; square in structure and powerful, with long hips. He had good depth through the heart.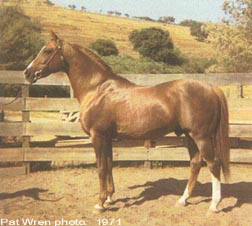 Today Aurab remains a source to go for excellence of hindquarters and for improving shoulders.
The shoulders and withers of Aurab came directly down through his topline as follows: 1893 Mahruss II /1901 Rijm / 1908 *Nasik / 1932 Rifnas / 1940 Aulani / 1957 Aurab. Another source of the shoulders and withers, just as strong in Aurab's pedigree, came down to him via his several crosses to 1878 Hadban [1878] through both of Hadban [1878]'s daughters Nefisa and *Rose of Sharon.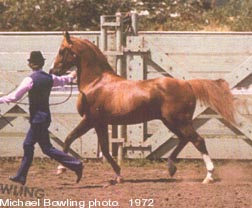 To make everything even more nearly perfect, Aurab also had a correct and really beautiful trot, with truly excellent inherited action. He sired this with frequency.
He stood 15-0 3/4 hands.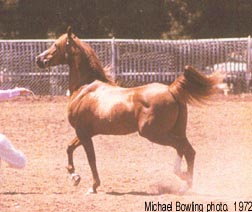 On top of all the above, Aurab also had a winning disposition. He was unflappable, calm and always easy to handle, yet he could animate in the show ring to be dazzling. Under saddle he was fearless and always reliable.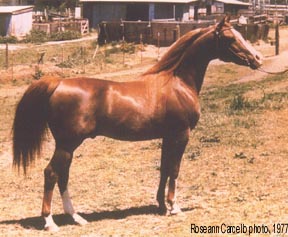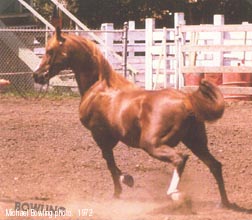 Aurab was owned by Mrs. Grace Baker of Aromas, California. Her husband was a career Army officer and when stationed at Monterey, California, Grace often drove by the farm which had Aurab. She had grown up with horses, saw Aurab and wanted to buy him, but he was not for sale (although this was the same farm which sold Aurab's son, Ben Rabba, to Ed Hubbert). Grace left her name and phone number at the farm, in case Aurab was ever available. A few years later she got a call. It was the wife of his owner who said her husband was so ill he could no longer take an interest in his horses, so Mrs. Baker could buy Aurab. Thus, in 1968 at the age of 11 years, Aurab moved from total hidden obscurity and pet status to a new life as a show horse and sought after sire. From the very first time Mrs. Baker took him before the public at a horse show, he had an instant, very loyal, and ever growing following.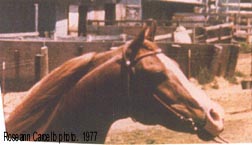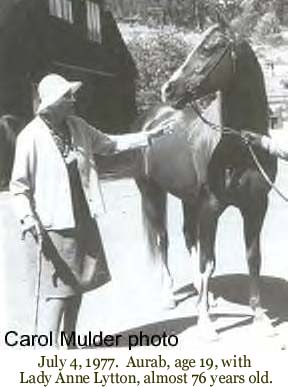 In 1977 Lady Anne Lytton visited California from England. Lady Anne was the daughter of Lady Wentworth and granddaughter of the Blunts of Crabbet Arabian Stud in England where she had been born in 1901. Thus, Lady Anne had grown up with and knew most of the Crabbet greats whose influence had spread throughout much of the Arabian horse breeding world. Lady Anne was also an Arabian breeder in her own right, and had been an international Arabian judge.
When Lady Anne saw Aurab on July 4, 1977, she was immediately and much struck with him. She was quite crippled with arthritis, but she wanted to climb down from her elevated seat and go see the horse close-up. After examining him, running her hands over him, and studying him, she pronounced Aurab "the most nearly perfect" Arabian stallion she had ever seen. A few minutes later she added something to the effect that he was the horse Crabbet had tried to breed for nearly 100 years.
Lady Anne wanted to try to lease Aurab for England, but Grace Baker would not let him go and in any case he died the next year at the age of 21.
Today Aurab blood can be found in several different countries of the world. Several breeders in the United States and Canada particularly treasure it.
With Permission from the Author, Carol W. Mulder. Copyright © 2008 by Carol W. Mulder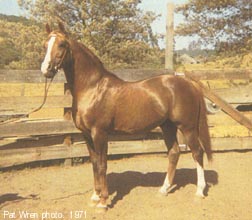 Pedigree for Aurab
Sire line: Barq
Family: Rodania
Sire
AULANI 1801
C 1940
H. H. Reese
California
RIFNAS 924
C 1932
Kellogg
California
*NASIK 604
B 1908
RIJM
MAHRUSS II
*ROSE OF SHARON 246
NARGHILEH
MESAOUD
NEFISA
*RIFLA 601
C 1920
RASIM
FEYSUL
RISALA
RIM
*ASTRALED 238
RIDAA
FOLLYAT 827
C 1931
Mrs. C. Erdman
Wyoming
BABYAT 460
B 1922
SIDI 223
KHALED 5
ROSA RUFOSA 166
*BARAZA 344
RAZAZ
BEREYDA
FENZILEH 555
C 1925
*RODAN 258
HARB
*ROSE OF SHARON 246
*BALKIS II 457
EL HASSEN
BEDADINE
Dam
RABNA 3622
C 1946
O. D. Gibson
California
NARZIGH 1745
C 1939
Hearst
California
GHAZI 560
G 1925
*RODAN 258
HARB
*ROSE OF SHARON 246
GUEMURA 277
SEGARIO 249
*GHAZALA 211
NAFARA 839
B 1931
*NASIK 604
RIJM
NARGHILEH
*FARASIN 615
RASIM
*FERDA 596
RABKHAL 1402
C 1937
Hearst
California
REHAL 504
C 1923
SIDI 223
KHALED 5
ROSA RUGOSA 166
*RAMIM 348
*BERK 343
RIM
RABK 795
C 1931
GULASTRA 521
*ASTRALED 238
GULNARE 278
RABIYAT 577
REHAL 504
*ROKHSA 351
Go Back
---

Home

History

Stallions & Colts

Mares & Fillies

For Sale

Reference Horses

Books

Links

Contact Me
---
Janice Siders (925) 275-1955
Diablo Vista Arabians
Website built and maintained by Azria Arabians
---