---

Home

History

Stallions & Colts

Mares & Fillies

For Sale

Reference Horses

Books

Links

Contact Me
---
Dreamazon 154558
Gray Stallion foaled March 12, 1977
Bred by David C. Bishop, San Luis Obispo, California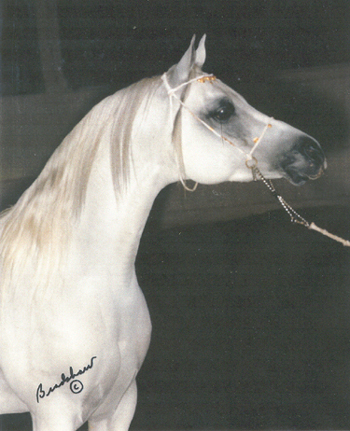 It must have been in about 1984 that I saw Dreamazon at the Scottsdale, Arizona, show in February; I am no longer actually sure of the year. I know that I was visiting my sister in Scottsdale, went to the show by myself for a few hours - and quite by accident came across Dreamazon being ridden around the grounds. I followed him back to his stall and saw him unsaddled. He is the only horse I remember from that show - maybe because after I "found" him I was no longer looking much at other horses during my short time at the show. Dreamazon made that show for me.
Dreamazon was an exquisitely beautiful stallion of exceptionally strong classic Arabian type. He had a gorgeous head and other very desirable features, including good legs. He was not perfect, and he was small, but his positive assets totally overwhelmed any flaws. The overall impression he created was unforgettable and more than positive.
Dreamazon strongly showed his close-bred Skowronek heritage (see pedigree); one knew immediately upon seeing him what his pedigree must be - and this proved the case. He is closely bred to Skowronek via *Raseyn (by Skowronek) and his son Ferseyn, via *Raffles (by Skowronek), and with one line to Naseem (by Skowronek); the latter was via *Naborr 25472.
Dreamazon's pedigree is of further interest became he was of the relatively rare *Nejdme 1 dam line. *Nejdme, an 1887 gray desert bred mare, was imported to the United States by the Hamidie Society in 1893 for what was commonly called the Chicago World's Fair. She became the first Arabian registered with the American Arabian registry when it was founded in 1908.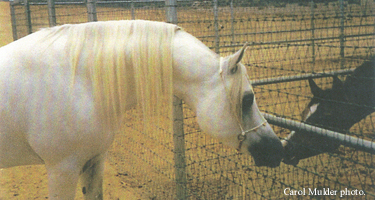 Upon seeing Dreamazon, I knew immediately that my friend Janice Siders had to use him in her breeding program. If she took the right kind of mare to him, he could perhaps do for her something similar to part of what *Raseyn had done for the old Kellogg Ranch, what *Raffles had done for the Selby program, and what Skowronek had done for Crabbet. Janice bred exactly the right mare to Dreamazon and the result, her beautiful mare Dream of Liberty, was everything, then some, of what was foreseen and wanted - and, incidentally, Dream of Liberty matured taller than either of her parents.
Dreamazon was owned from his birth by Margaret Haverstock of Murrieta, California. In November of 1985, when Dreamazon was 8, Mrs. Haverstock sold him to Bazy Tankersley, of Al-Marah Arabians in Tucson, Arizona.
Dreamazon had a long and very full show career that spanned the years 1979 to 1995. He was a frequent winner and champion. He was shown in most classic head classes, in western pleasure, and in sidesaddle. His heavy show schedule got him out in front of many people and he attained a large following
With Permission from the Author,
Carol W. Mulder.
Copyright © 2007 by Carol W. Mulder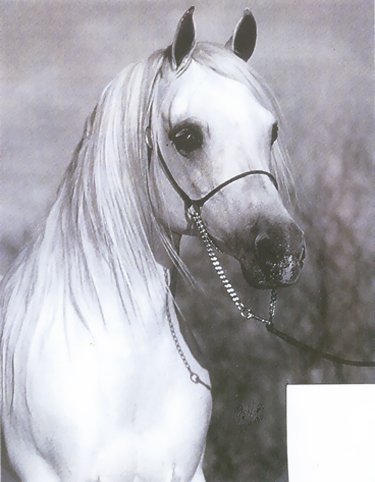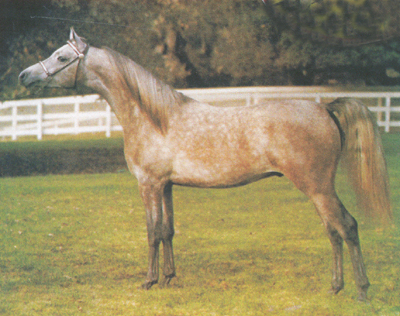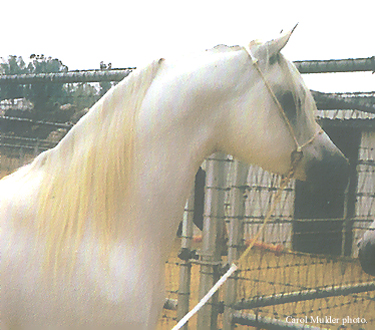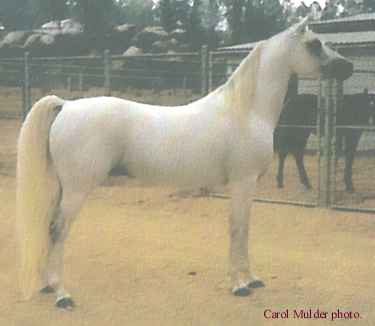 Pedigree for Dreamazon
Sire line: Heijer
Family: *Nejdme 1
Sire
BF RAGEYMAZON 109816
g 1974
D. Gainey
Minnesota
FERZON 7723
g 1952
Frank McCoy
California
FERNEYN 2865
g 1944
FERSEYN 1381
*RASEYN 597
*FERDA 596
MONEYNA 1352
*RASEYN 597
MONICA 589
FERSARA 4104
g 1947
FERSEYN 1381
*RASEYN 597
*FERDA 596
BINT SAHARA 2394
FARAWI 1203
BINT SEDJUR 1148
GAI-GA-RAGEYMA 47151
g 1968
D. Gainey
Minnesota
*NABORR 25472
g 1950
NEGATIW
NASEEM
TARASZCZA
LAGODNA
POSEJDON
OBRA
GA-RAGEYMA 13717
c 1958
FERZON 7723
FERNEYN 2865
FERSARA 4104
GAJALA 2642
*RAFFLES 952
RAGEYMA 1289
Dam
GAI DREAM 95322
g 1973
D. Gainey
Minnesota
GAY-ROUGE 33543
g 1965
D. Gainey
Minnesota
AZRAFF 5596
g 1949
*RAFFLES 952
SKOWRONEK
*RIFALA 815
*AZJA IV 1543
LANDSKNECHT
ASRA
GAY-ROSE 11891
b 1957
FERZON 7723
FERNEYN 2865
FERSARA 4104
GALI-ROSE 4619
GALIMAR 3166
BRIDE ROSE 1462
GAFFI 30076
g 1964
D. Gainey
Minnesota
RAFFI 3781
g 1946
*RAFFLES 952
SKOWRONEK
*RIFALA 815
IMAGIDA 1694
IMAGE 1008
OURIDA 946
GALATINA 9873
g 1955
FERZON 7723
FERNEYN 2865
FERSARA 4104
KAMA 1260
KHALIL 629
MERSHID 386
Go Back
---

Home

History

Stallions & Colts

Mares & Fillies

For Sale

Reference Horses

Books

Links

Contact Me
---
Janice Siders (925) 275-1955
Diablo Vista Arabians
Website built and maintained by Azria Arabians
---