---

Home

History

Stallions & Colts

Mares & Fillies

For Sale

Reference Horses

Books

Links

Contact Me
---
Khateefa Shiek 581174
Black Mare foaled March 5, 2000
Bred by Kevin Nickalas Weber, Bellevue, Iowa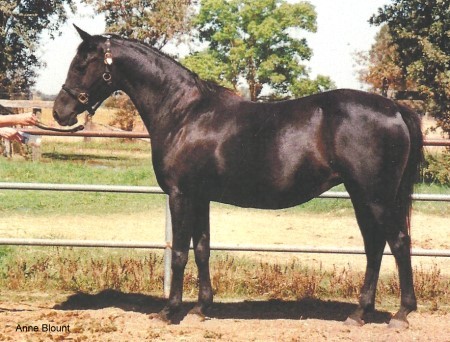 This is an impressive big, black mare with solidly correct, balanced conformation and good legs featuring ideally short cannons.
I had for some years been looking for a black mare with size and other qualities I desired for the black part of my breeding program. When I finally found Khateefa Shiek in Illinois, via an ad, I took a gamble and bought her sight unseen, just on the basis of photographs and videos. She is only the second horse in all of my nearly four decades as an Arabian breeder that I have bought sight unseen, and as was the case with the other one (Shafarla, from Canada - bought because I wanted a quality daughter of Farlanes Fancy), I was lucky and am very pleased with Khateefa Shiek too, getting just what I hoped for and wanted.
The pedigree of "Khatie" is roughly (not precisely) 1/2 Polish, 1/4 Egyptian, and 1/4 old American lines, the latter including more Polish through the Kellogg stallions *Witez II and *Wisok (both part of the U.S. General Patton capture from the German Army in the closing days of World War II, and then brought to the old Kellogg Ranch by the U.S. Army Remount). I want my black Arabians to carry at least some of the old American bloodlines, and Khatie's 1/4 of her pedigree that does that contains (besides *Witez II and *Wisok) the Kellogg Crabbet import *Raseyn (by Skowronek) and some of the less often seen old blood., including that of the typy Roglemar Duhki and going back farther some of the historic breeding of Albert W. Harris.
The Egyptian part of Khatie's pedigree is via her topline grandsire *Adhem, a truly jet black Arabian whose dam was of somewhat different breeding from most modern Egyptian stock. Khatie's Polish half carries such names as *Aladdinn , which horse I always like to see in a pedigree, *Bask, Celebes, and Negatiw, the latter of the Skowronek sire line (thus Khatie has double Skowronek, back a ways).
There are many good Arabians in Khateefa Shiek's pedigree and she reflects these positive influences.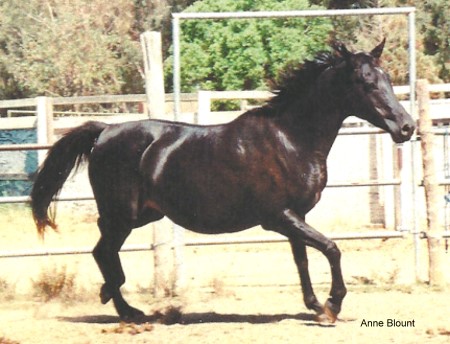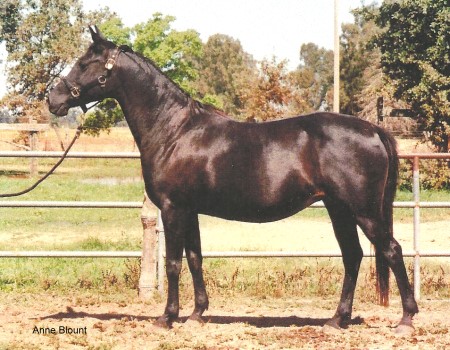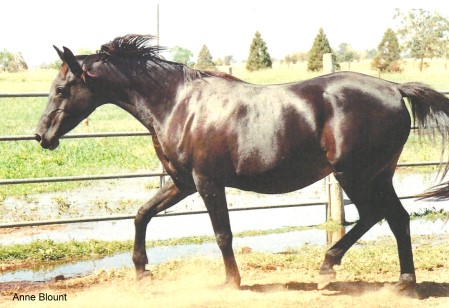 Pedigree for Khateefa Shiek
Sire line: Khalil
Family: Warszawa
Sire
SHIEK EBONY
94794
k 1973
G. D. Ernest
Missouri
*ADHEM 69913
k 1967
Sayed Marei
Egypt
ALAA EL DIN
c 1956
NAZEER
MANSOUR
BINT SAMIHA
KATEEFA
SHAHLOUL
RAZIEH
ZOBEYA
b 1951
ADHAM [1937]
IBN FAYDA
ZAHRA [1922]
GHAZALA I
EL MOEZ
EL ZAHRAA
JUBALEE 51613
k 1968
L. H. Reed
Montana
WISINO 28019
b 1964
CASINO 10338
*WITEZ II 3933
ATABI 2117
WIZARA 177306
*WISOK 4006
ZAR ALLAH 11252
BINT RASSA 12001
c 1957
IBN-ZEYD 4161
ROGLEMAR DUHKI 1059
FIZANA 2029
RAASAUBINT 5700
RAASAUD 3305
DERABINT 2961
Dam
KHATE
464411
b 1990
J. E. Trippi
Pennsylvania
GRANTED 331152
c 1985
Lasma Arabians
Arizona
*ALADDINN 177073
b 1975
NUREDDIN
WITRAZ
NORMA [1932]
LALAGE
GERWAZY
LAFIRYNDA
GARNET 116119
g 1974
*BASK 25460
WITRAZ
BALALAJKA
*GDYNIA 25453
COMET
*GWOZDAWA 25452
MSA KHITAN 313196
b 1982
C. H. Johnson
Kentucky
*PIERSCIEN 148139
b 1971
CELEBES
WITRAZ
CANARIA
*PIERSNICA 117773
NEGATIW
*PIESN 78293
*FLAGA 164838
b 1973
*EL PASO 128871
CZORT
ELLORA
FELLUKA
COMET
FORSYCJA
Go Back
---

Home

History

Stallions & Colts

Mares & Fillies

For Sale

Reference Horses

Books

Links

Contact Me
---
Janice Siders (925) 275-1955
Diablo Vista Arabians
Website built and maintained by Azria Arabians
---