---

Home

History

Stallions & Colts

Mares & Fillies

For Sale

Reference Horses

Books

Links

Contact Me
---
Nataf 4835
Gray Stallion foaled January 10, 1948.
Bred by the United States Government,
Pomona Quartermaster Depot (Remount),
Kellogg Ranch, Pomona, Calif.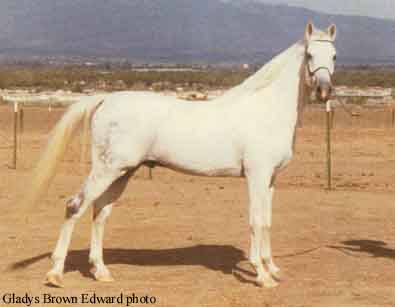 This beautiful, stylish, and very memorable horse was without doubt one of the best sons of the great athlete and sire Farana, and, despite the difference in their colors (Farana bay and Nataf gray), was probably also the most look-alike Farana son.
Nataf was the last foal of his dam, the Skowronek daughter *Incoronata, who was 23 when he was foaled. She raised him to six months weaning age and then was put down because she was failing.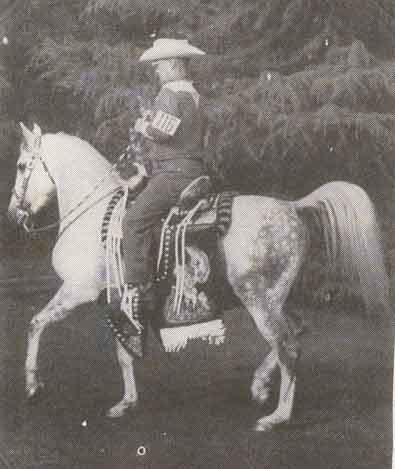 Nataf's head and face were very like Farana's, and he had the same unusual and noteworthy sparkling eyes as his sire. He had Farana's splendid shoulders and withers, and very similar upstanding conformation. Nataf also had a good trot; his trot was very similar to that of his sire.
In addition to his outstanding pedigree, Nataf's physical traits, including his exceptional shoulders and withers, and his Arabian character, were and are of extreme value to the Arabian horse. Today Nataf blood is much treasured by those lucky enough to have it in their stock.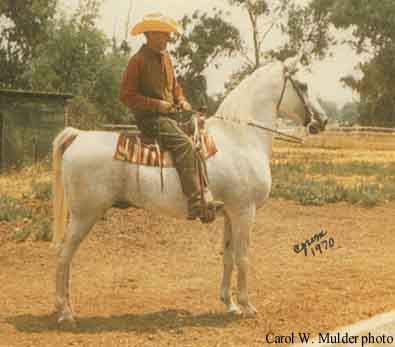 The Kellogg-bred Nataf was 100% Crabbet by pedigree.
At the time of Nataf's birth, the old (1925-1963) Kellogg Ranch at Pomona, California, was under the jurisdiction of the U.S. Army Remount Service. Nataf was caught in the Remount Sales after World War II. His buyers were Jimmie and Edna Nelson of South San Gabriel, California, who kept him all his life. He was primarily Jimmie's saddle horse, but fortunately, the Nelsons also used him for limited breeding.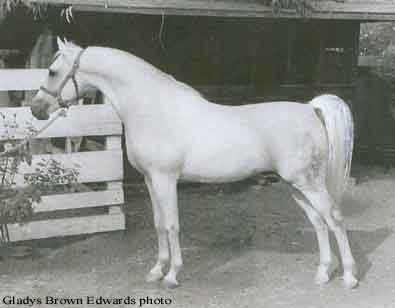 When Nataf was young it was popular to ride Arabians in parades under western silver mounted tack. Nataf had a reputation as a very desirable and beautiful "parade horse" as shown in the photo.
With Permission from the Author, Carol W. Mulder.
Copyright © 2006 by Carol W. Mulder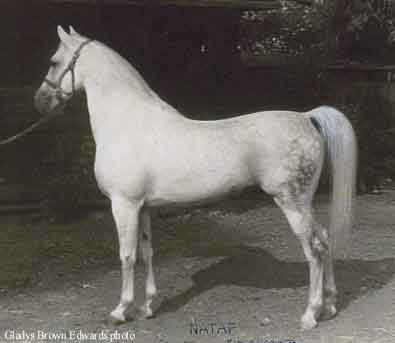 Pedigree for Nataf
Sire line: Barq
Family: Dajania
Sire
FARANA 708
B 1929
Kellogg
California
*NASIK 604
B 1908
Crabbet Stud
England
RIJM
C 1901
MAHRUSS II
MAHRUSS I
BINT NURA II
*ROSE OF SHARON 246
HADBAN [1878]
RODANIA
NARGHILEH
B 1895
MESAOUD
AZIZ II
YEMAMEH I
NEFISA
HADBAN [1878]
DAJANIA
*FARASIN 615
B 1920
Crabbet Stud
England
RASIM
C 1906
FEYSUL
IBN NURA
EL ARGAA
RISALA
MESAOUD
RIDAA
*FERDA 596
B 1913
RUSTEM
*ASTRALED 238
RIDAA
FELUKA
MESAOUD
FERIDA
Dam
*INCORONATA 1200
G 1925
Crabbet Stud
England
SKOWRONEK
G 1908
J Potocki
Poland
IBRAHIM
G 1899
HEIJER
desert bred
desert bred
LAFITTE
desert bred
desert bred
JASKOLKA
G 1891
RYMNIK
KORTEZ
HAMA
EPOPEJA
DERWISZ
LIRA
NISREEN
B 1919
Crabbet Stud
England
*NUREDDIN II 974
C 1911
RIJM
MAHRUSS II
*ROSE OF SHARON 246
NARGHILEH
MESAOUD 2539
NEFISA
NASRA
B 1908
DAOUD
MESAOUD
BINT NURA II
NEFISA
HADBAN [1878]
DAJANIA
Go Back
---

Home

History

Stallions & Colts

Mares & Fillies

For Sale

Reference Horses

Books

Links

Contact Me
---
Janice Siders (925) 275-1955
Diablo Vista Arabians
Website built and maintained by Azria Arabians
---