---

Home

History

Stallions & Colts

Mares & Fillies

For Sale

Reference Horses

Books

Links

Contact Me
---
The Most Wanted 650484
Bay Stallion foaled April 24, 2010
Bred by Janice M Siders, San Ramon, California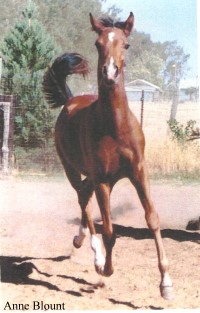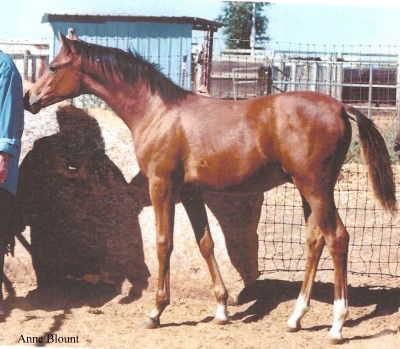 This beautiful colt is being kept as a future stallion prospect at Diablo Vista Arabians.
His sire, Sb Criminal Justice, is owned by Angela Lewis at Susanville, California. "CJ" is a classic, pretty, and stylish horse with a beautiful Arabian head and lots of Arabian type. He has an outstanding trot and and extra good disposition. His sire, Rabba Baron, was also owned by Angela Lewis during the last years of his life; he was himself a very stylish, correct horse with an incredibly good disposition. The dam of Sb Criminal Justice is my own fine mare, Star of Royalty, whose photos, pedigree, and information can be seen in the mare inventory part of this web site; Angela Lewis leased Star of Royalty from me to breed to Rabba Baron.
The Most Wanted is the first foal of his dam, Tp Famealina. I bought this mare because I liked her so well and she is a daughter of a lovely old stallion I admire, Mfa Drumfire, who also has a pedigree I like. Further, it just seemed that Tp Famealina ought to nick well with Sb Criminal Justice, a stallion I wanted to use.
The nick proved better even than I had hoped - and I had hoped for a lot. The Most Wanted is a smooth, well balanced, well conformed, good legged, and very neat looking youngster. He has a lovely head, the long, light neck of his maternal grandsire, a very good trot, and a nice disposition. This colt is often singled out by those who see my horses. He has a demeanor that is at once - at the same time - both rather imperialistic and also friendly, kind, and gentle; he has a kind of dignity about him.
So far, The Most Wanted is the only descent in my herd of my lovely mare, Star of Royalty, and I feel fortunate to have him to pass on her bloodlines and quality. Indeed, this colt is a worthy representative of all the fine animals in his pedigree.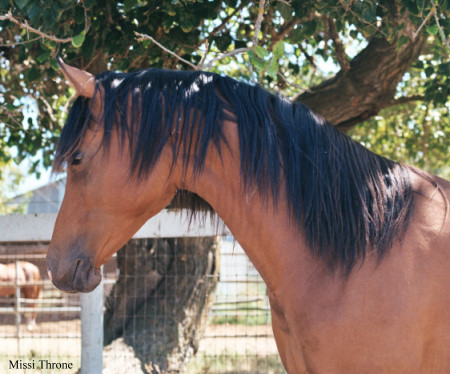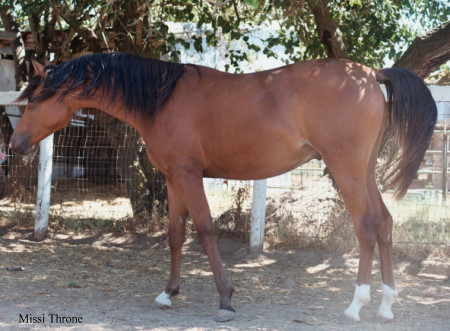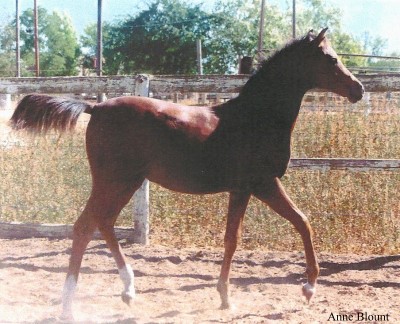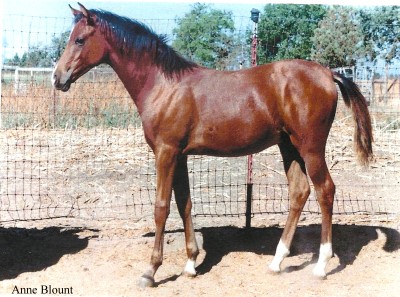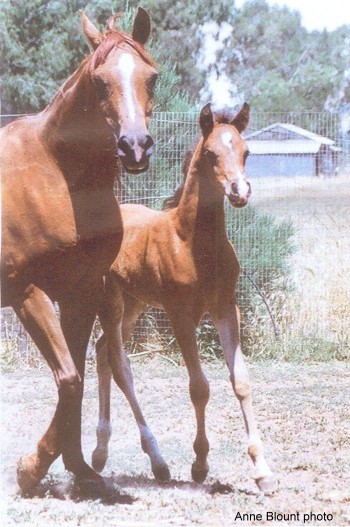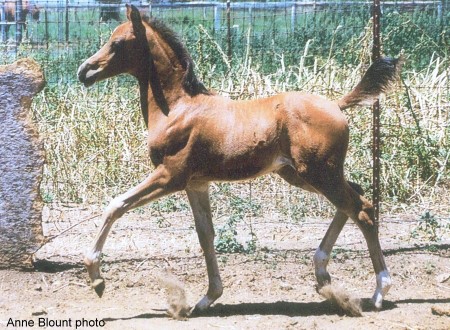 Pedigree for The Most Wanted
Sire line: Barq
Family: Ghazieh
Sire
SB CRIMINAL JUSTICE
628919
b 2006
J. Siders
California
RABBA BARON 353597
c 1985
Sharon Pardo
California
BEN RABBA 29921
c 1964
AURAB 12488
AULANI 1801
RABNA 3622
ROLLICKA 15286
SAROLLE 6171
COALANI 8419
BAY-KAREL 17228
c 1973
BAY-ABI 22335
ERRABI 5473
ANGYL 4824
GAZLOWA 24127
FARLOWA 8545
GAZYA 2588
STAR OF ROYALTY 518009
b 1994
J. Siders
California
THE NIGHT STAR 429131
b 1989
NIGHT DRAGON 285176
BEN RABBA 29921
AURZEYA 122236
OUARZAZATE 197345
SX SALADIN 63310
BINT DHUSHARA 93342
DYNASTY ROYALETTE 82463
c 1972
ROYAL BINIS 20101
BINIS 3050
HAMNAN 7278
MISS FARWA 32471
AZREK-SKOWRONEK 8987
TARI SABA 12108
Dam
TP FAMEALINA
566384
c 1996
J. Johnson
California
MFA DRUMFIRE 301778
b 1984
R. Middleton
Washington
*EL SHAKLAN 268260
g 1975
SHAKER EL MASRI
*MORAFIC 32261
ZEBEDA
*ESTOPA 309769
TABAL
UYAIMA
DRIFRONNA 51385
b 1968
SNOW DRIFT 32945
*SILVER DRIFT 23494
WAHIDA 8289
KISRONNA 6455
FARONEK 2058
KISWAH 2298
TP FAMEANNA 460137
c 1990
J. Johnson
California
FAME VF 268987
b 1982
BEY SHAH 134556
BAY EL BEY 54146
STAR OF OFIR 61852
RAFFOLETA-ROSE 78072
RAFFON 19040
LETA ROSE 47338
NITE MYSTIQUE 235168
b 1981
IBN ZAGHLOUL 134913
*ZAGHLOUL 69609
*BINT MONA 30263
SHYTANNA 113101
*TUHOTMOS 94925
TARASKA 59995
Go Back
---

Home

History

Stallions & Colts

Mares & Fillies

For Sale

Reference Horses

Books

Links

Contact Me
---
Janice Siders (925) 275-1955
Diablo Vista Arabians
Website built and maintained by Azria Arabians
---