---

Home

History

Stallions & Colts

Mares & Fillies

For Sale

Reference Horses

Books

Links

Contact Me
---
Tuxeddo 505659
Black Stallion foaled April 28, 1993
Bred by Linda S. Moore, Ramona, California
Tuxeddo was purchased in the fall of 2011 from his breeder, Linda Moore, Ramona, California. He was then 18 years old, had never been off the property of Mrs. Moore, and had sired only one foal (a half-Arabian foaled in 2008) in his life. He had never been ridden or been in a trailer, but he had been handled since foalhood and was gentle.
I first saw Tuxeddo when he was about 10 or 12 years old. I had particularly wanted to see this black stallion because his 3rd dam was Blue Bierka, a mare I much admired.
Blue Bierka was daughter of *Blue Mantle, imported from England and of mostly Crabbet breeding (close to 100% Crabbet - but not quite), and Bierka, by Bataan x *Wierka. Thus, Bierka was "pure" Polish. Bataan was an outstanding black stallion bred by J. M. Dickinson in Tennessee; Dickinson had donated Bataan to the U.S. Remount which then took him to the old Kellogg Ranch, then the Pomona Quartermaster Depot and headquarters of the western area of the Remount. Thus, Bataan became an old Kellogg stallion. *Wierka was one of the mares that U.S. General George W. Patton's forces captured from the German Army in the closing days of World War II.
Bataan was a very correct and balanced horse with excellent legs and feet. He had pleasing and attractive Arabian type. His disposition was exceptional and he was very athletic. His precious blood is rare today - and here was Tuxeddo, a black stallion descended from him.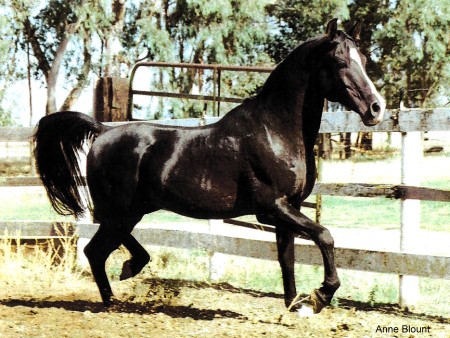 I find other parts of Tuxeddo's pedigree of interest, too. His sire, Jemaal El Pharo, was a combination of new Egyptian with the older Babson Egyptian lines, and his tail female was Mailatrah, a granddaughter of both Gulastra and Farana - about as good as one can get in the old American bloodlines. Tuxeddo's maternal grandsire, Ms Santana, was tail female grandson of *Druchna, a daughter of Rozmaryn, who has been one of my favorite Polish sire influences in a pedigree. The famous *Bask in in Tuxeddo's pedigree, too. Tuxeddo's 2nd dam, Ddinnerka, was a daughter of *Aladdinn, whose name I always like to see in a pedigree because he was a good individual and such a good sire who clearly had a very positive influence.
Tuxeddo is a well conformed horse with very good shoulders and withers. He carries himself well and has a good trot. Although Bataan is far back in Tuxeddo's pedigree (5th generation back, not counting Tuxeddo as a generation), influence of Bataan can be seen in Tuxeddo's excellent legs, with good bone, joints, and feet, and in his disposition, which is kindly. Of course, Tuxeddo also shows considerable good influence from the vaster part of his pedigree which is not Bataan. It is nice to see Bataan influence, though.
When I saw Tuxeddo all those years ago, I liked him ao well that I knew I wanted to breed a mare to him, but he was a long distance from my mares and I always seemed to have other breeding priorities. Then I realized that Tuxeddo was not getting any younger. I contacted his owner and we decided it would be most feasible if I just bought Tuxeddo. I am glad I did, and that I was able to get him.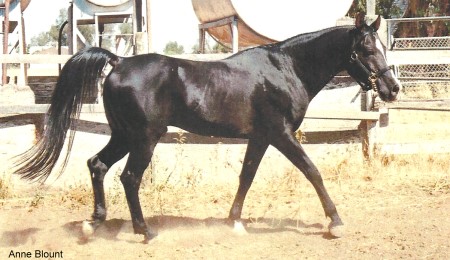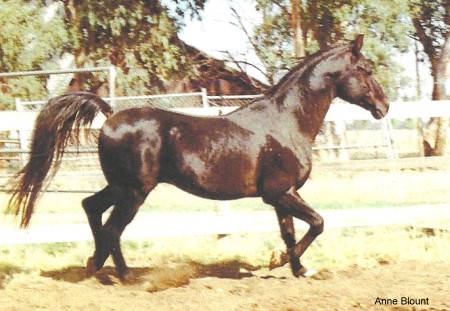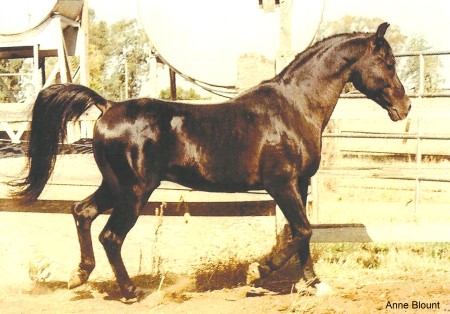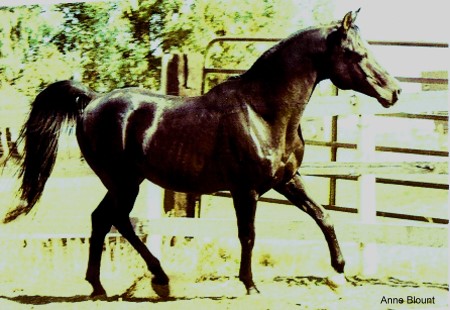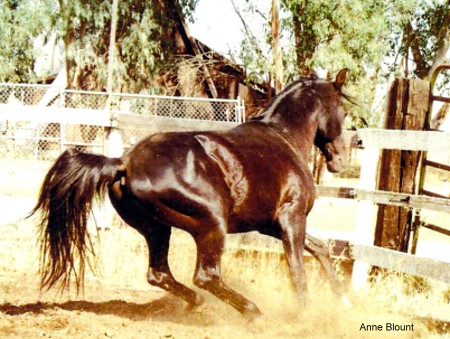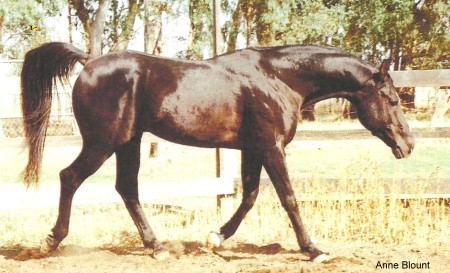 Pedigree for Tuxeddo
Sire line: Khalil
Family: Gazella
Sire
JEMAAL EL PHARO 285733
k 1983
D. F. Johnson
California
RAISULI EL PHARO 138257
b 1976
C. & J. Carley
California
*ANSATA IBN HALIMA 15897
g 1958
NAZEER
MANSOUR
BINT SAMIHA
HALIMA
SHEIKH EL ARAB
RAGIA
AL NAHR MODONNA 54158
b 1969
*IBN MONIET EL NEFOUS 33488
*MORAFIC 32261
MONIET EL NEFOUS
BINT AAROUFA 19245
FA-SERR 4482
AAROUFA 7892
BAMBI LEA 176508
g 1978
N. F. Jackson
California
MAAR-RAB 17602
g 1960
FA-RAB 7047
*FADL 896
AANA 3389
MAAROU 5120
FAY-EL-DINE 1170
*MAAROUFA 895
BAMBI LYN 19196
g 1961
BAAROUF 2163
*ALDEBAR 1864
*MAAROUFA 895
MAILATRAH 2402
BALASTRA 1590
MAILAT 1487
Dam
SATINN DDOLL 350535
k 1985
VanCamp-Warner
California
MS SANTANA 174601
b 1978
K. & D Topp
Michigan
*BASK 25460
b 1956
WITRAZ
OFIR
MAKATA
BALALAJKA
AMURATH SAHIB
*IWONKA III 3937
SW SARUCHNA 111310
c 1974
*SAMBOR 53653
CZORT
*SABELLINA 61145
*DRUCHNA 79779
ROZMARYN
DARDA
DDINNERKA 201977
k 1980
M. Whitcomb
California
*ALADDINN 177073
b 1975
NUREDDIN
WITRAZ
NORMA [1932]
LALAGE
GERWAZY
LAFIRYNDA
BLUE BIERKA 56038
b 1969
*BLUE MANTLE
BLUE DOMINO
*PRINCESS ZIA 34986
BIERKA 6168
BATAAN 2229
*WIERKA 4008
Go Back
---

Home

History

Stallions & Colts

Mares & Fillies

For Sale

Reference Horses

Books

Links

Contact Me
---
Janice Siders (925) 275-1955
Diablo Vista Arabians

Copyright © 2008 Diablo Vista Arabians/Janice Siders

Website built and maintained by Azria Arabians
---