---

Home

History

Stallions & Colts

Mares & Fillies

For Sale

Reference Horses

Books

Links

Contact Me
---
Ben Rabba 29922
Chestnut Stallion foaled May 17, 1964
Bred by E. D. Mathiot, Carmel Valley, Calif.
(updated July 21, 2008)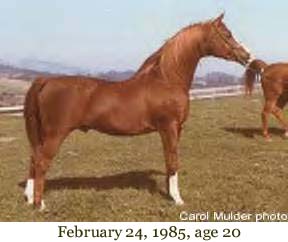 This magnificent and great stallion was an internationally successful horse. In 1978 Ben Rabba became the first American-bred Arabian stallion to ever be leased abroad (there have since been others). He went to England where he stood for 2 1/2 years; during that time he was the heaviest used Arabian sire in England. Before going to England he had himself won many championships in American shows and had sired many American champions. He sired more champions in England and a grandson was champion at Paris, France.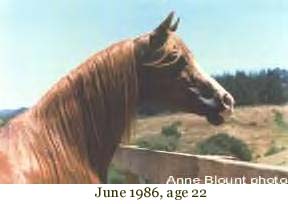 Several English Ben Rabba get were exported to other countries:
1. *Abbah 291834, 1980 chestnut mare (x Azeme Bint Gleam) was exported to Israel in 1982, then to the U.S. in 1983.
2. Sunlea Ben Rab, 1980 chestnut stallion (x Indian Golddust) was exported to Israel in 1982.
3. Amirah, 1981 chestnut mare (x Halibe) was exported to France in 1987.
4. Aurelian, 1981 chestnut stallion (x Estrella) was exported to France in 1998, after a successful stud career in England.
5. Badrya, 1981 chestnut mare (x Bright Gleam) was exported to France in 1994.
6. Prince Carleton, 1981 chestnut stallion (x Kasmira) was exported to Saudi Arabia in 1987.
7. Taffita, 1981 bay mare (x Ramima) was exported to Qatar in 1989.
8. Accolade, 1982 chestnut stallion (x Fanfara) was exported to Iraq in 1983.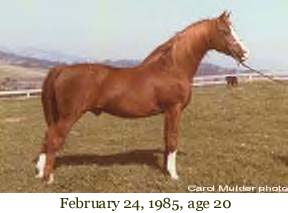 When Ben Rabba came back to America in 1981 he resumed siring champions in North America. In the United States, Ben Rabba stock has also done well in both flat racing and endurance.
Altogether during his stud career Ben Rabba sired 188 purebred registered Arabian foals (144 in North America and 44 in England).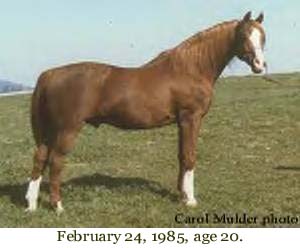 Ben Rabba stood 15-1 1/2 hands; this is unusually tall for an Arabian (the size range average of the breed is 14-1 to 15-1 hands). He was absolutely superb in his conformation, balance, and exceptional Arabian beauty. He was particularly known for his long, elegant neck which was clean, dry, had a naturally clean throat, a lovely natural arch, and came out of his shoulders correctly high. His neck was undoubtedly was one of his most perfect and beautiful features. He was also noted for his magnificent hindquarters which were square and powerfully built, his strong loins, and his smooth coupling. Even some generations forward from Ben Rabba, his awesome hindquarters can still be seen in some individuals. His head was dry, chiseled, and good, and his face very beautiful. He seemed unusually good at siring exceptional trots in his stock.
In temperament Ben Rabba was a remarkably and noticeably tolerant horse. In his day many people remarked on this trait.
The percentage breakdown of origin components of Ben Rabba's pedigree is as follows:
57.72% Crabbet
17.48% Davenport
12.10% non-Crabbet English
6.25% Egyptian
4.69% French
.93% Hamidie
.83% Grant
100.00%
Information about Ben Rabba's sire, Aurab, is in this reference section.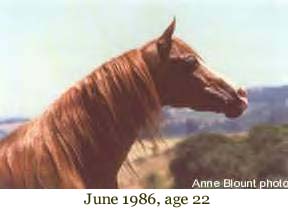 Ben Rabba's dam, Rollicka, was a very beautiful mare with a lovely head who was the chestnut product of two blacks. Rollicka's sire, Sarolle, was a grandson of both the great Crabbet-bred *Raffles and the beautiful Egyptian import *Zarife.
Ben Rabba's second-dam, Coalani, had a pedigree of unusual interest. She was an Aulani daughter, thus making Ben Rabba both grandson and great-grandson of Aulani, but it was Coalani's dam that brought in the rather rare and extremely valuable blood of 1911 Narkhaleb, who sired only three registered foals in his life, but who was 75% the breeding of Randolph Huntington, the first American breeder of American Arabians which have bred on into modern stock. As a main criterion of his breeding program, Huntington wanted and got exceptional natural trotting ability. Narkhaleb was very linebred to Huntington's trotting Arabian English imports *Naomi and her daughter *Nazli. The Huntington horses in Narkhaleb's pedigree also carried the blood of two great racers, Maidan and *Kismet, as well as the blood of Anazeh 235 (*Leopard 233 x *Naomi 230) the first American-bred and foaled Arabian to breed on into modern stock; Anazeh, foaled in 1890, was bred by Huntington.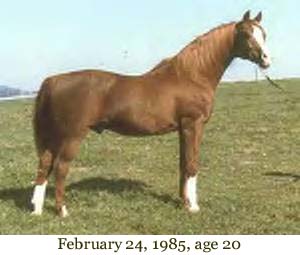 Ben Rabba was owned by Ed Hubbert, who bought him as a weanling. Mr. Hubbert did not really know or care what an exceptional colt he had; he bought him because he saw him many times in a roadside paddock as he drove home from work, often stopped to pet him, and finally decided he would try to buy the colt. He succeeded. Ben Rabba became his close personal companion and they developed a wonderful, widely recognized , and very special relationship with each other. Ed showed Ben Rabba just because to him it was fun. Ed was always delighted that his horse won and that others liked Ben Rabba so well, but to Ed the main thing was that Ben Rabba was his close friend.
Ben Rabba - breathtakingly and unforgettably beautiful in his extreme high quality and merit - was unquestionably one of the great American-bred Arabian stallions of the latter half of the 20th century.
With Permission from the Author, Carol W. Mulder. Copyright © 2008 by Carol W. Mulder
Pedigree for Ben Rabba
Sire line: Barq
Family: *Hadba 43
Sire
AURAB 12488
C 1957
E. E. Hurlbutt
California
AULANI 1801
C 1940
H. H. Reese
California
RIFNAS 924
C 1932
*NASIK 604
RIJM
NARGHILEH
*RIFLA 601
RASIM
RIM
FOLLYAT 827
C 1931
BABYAT 460
SIDI 223
*BARAZA 344
FENZILEH 555
*RODAN 258
*BALKIS II 457
RABNA 3622
C 1946
O. D. Gibson
California
NARZIGH 1745
C 1939
GHAZI 560
*RODAN 258
GUEMURA 277
NAFARA 839
*NASIK 604
*FARASIN 615
RABKHAL 1402
C 1937
REHAL 504
SIDI 223
*RAMIM 348
RABK 795
GULASTRA 521
RABIYAT 577
Dam
ROLLICKA 15286
C 1959
K. D. Mathiot
California
SAROLLE 6171
K 1950
E. C. Pinard
California
RALLAF 2366
C 1952
*RAFFLES 952
SKOWRONEK
*RIFALA 815
CHRALLAH 728
HANAD 489
HEGRA 487
SARIFAH 2570
B 1943
*ZARIFE 885
IBN SAMHAN
MAHROUSSA
SAWA 1597
TAWA 1077
SABA 437
COALANI 8419
K 1953
E. E. Hurlbutt
California
AULANI 1801
C 1940
RIFNAS 924
*NASIK 604
*RIFLA 601
FOLLYAT 827
*BABYAT 460
FENZILEH 555
NARLAH 916
B 1932
NARKHALEB 114
LEUCOSIA 50
KHALETTA 9
KILLAH 103
*GOMUSA 31
*HADBA 43
Go Back
---

Home

History

Stallions & Colts

Mares & Fillies

For Sale

Reference Horses

Books

Links

Contact Me
---
Janice Siders (925) 275-1955
Diablo Vista Arabians
Website built and maintained by Azria Arabians
---