---

Home

History

Stallions & Colts

Mares & Fillies

For Sale

Reference Horses

Books

Links

Contact Me
---
Black Destiny 618053
Black Stallion foaled June 10, 2005
Bred by Janice M. Siders, San Ramon, California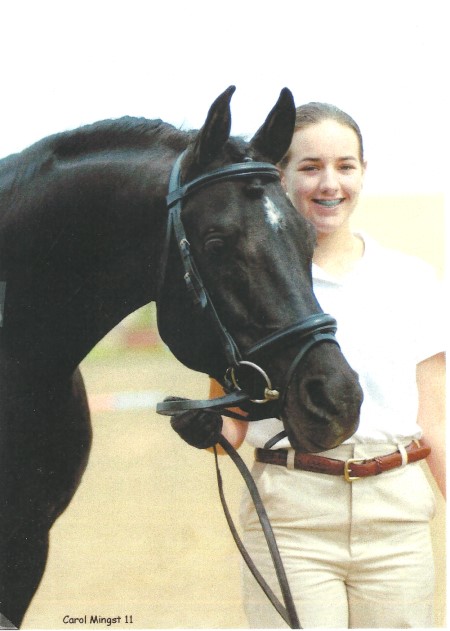 Of Black Destiny, Janice Siders, owner of Diablo Vista Arabians, wrote in 2008: "Black Destiny is the result of my second use of the outstanding black stallion Nv Beau Bey. My first use of Nv Beau Bey produced Beaus Black Lady. I am extremely pleased with what Nv Beau Bey has done for me. I consider Nv Beau Bey one of the best stallions alive today, regardless of color, and his light, airy trot, that is also powerful, is truly awesome."
Nv Beau Bey's pedigree has the Crabbet/American components Mrs. Siders hoped to find in black stallions she has used in the black section of her breeding program, as well as the successful Bey Shah show bloodline. Nv Beau Bey's dam, Bint Miss Fire, was one of the breed's most credible modern broodmares, and she carried the wonderful blood of El Tio and Jaguar from the breeding program of Charles and Lorraine Lee. For information about Mi Gay Chanel, dam of Black Destiny, see her section in this roster of reference horses.
Black Destiny is a correctly made stallion of beautiful balance with strong hindquarters, excellent shoulders, good withers, and good legs. His legs are correctly aligned from all views, he has good joints, and his bone is good, clean, and flat, with very cleanly defined strong tendons. He has excellent feet. Black Destiny has a long, light neck which he uses well. His head is nice and he has a beautiful high, straight, Arabian tail carriage. He moves with great style and he has a very good trot. He would be an outstanding horse of any color.
Black Destiny has a particularly friendly and cooperative attitude. He is unflappable. He is confident and respectful at the same time, and seems to feel a comfortable contentment concerning his association with people.
Under management of Gwen Davies of Watsonville, California, gentle and amenable Black Destiny was shown in Arabian Sport Horse halter classes when he was 6 and 7 years old. He was always shown by a 15 year old girl, Ellen Crawford, with whom he formed a strong bond of trust. He was named Region 3 Top 5 Sport Horse Stallion and won two Reserve Championships.
On September 22, 2012, Black Destiny was sold to Mary B. Adams, Pleasant Hill, Missouri.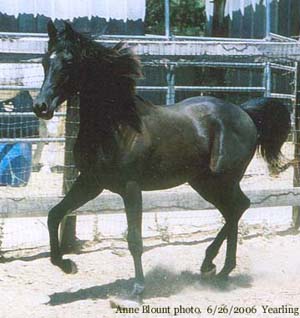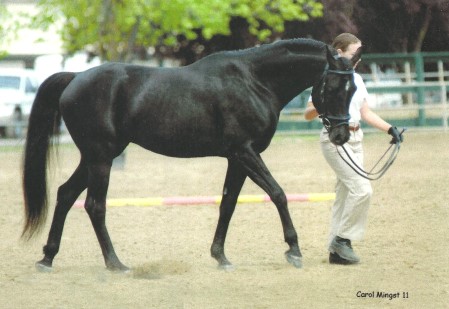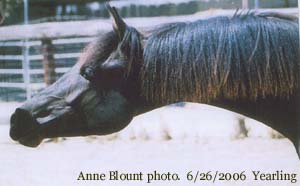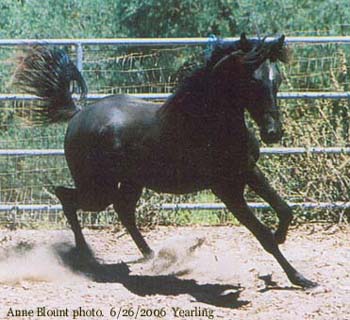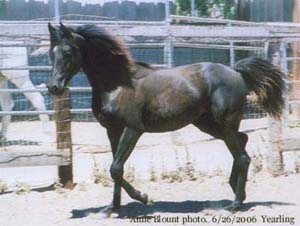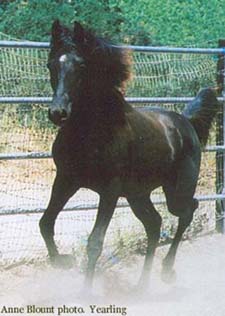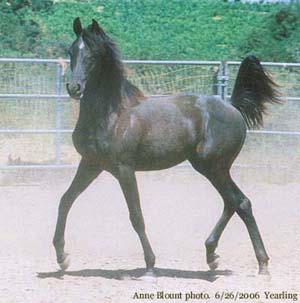 Pedigree for Black Destiny
Sire line: *Mirage 790
Family: Rodania
Sire
NV BEAU BEY
496437
k 1993

BEY SHAH 134556
b 1976

BAY EL BEY 54146
b 1969
BAY-ABI 12335
ERRABI 5473
ANGYL 4824
*NAGANKA 20338
BAD AFAS
NAJADA (1932)
STAR OF OFIR 61852
b 1970
*BASK 25460
WITRAZ
BALALAJKA
LLANA 29856
GA'ZI 5162
ZARYN 9796
BINT MISS FIRE 132885
b 1976
GDANSK 47458
g 1968
*BASK 25460
WITRAZ
BALALAJKA
*GDYNIA 25453
COMET
*GWOZDAWA 25452
MISS FIRE 46291
b 1967
EL TIO 10372
*WITEZ II 3933
EL SIKADA 2340
CERCE 17387
JAGUAR 8110
NEFARTITTI 5874
Dam
MI GAY CHANEL
507569
k 1993

GAYRONEK 30143
k 1964

RISAB 6054
g 1950
RONEK 807
*RASEYN 597
BAHREYN 603
FADAHMA 1245
*FADL 896
*BINT BINT SABBAH 894
SAHAGAY 4468
b 1947
GAYR 1942
RONEK 807
*BARAKAT 1218
SAHABET 2110
TANATRA 444
JADUR 756
MI EBONY COQUETTE 366033
k 1986

BAY BEAU TU 191143
B 1979
COMAR BAY BEAU 24184
AZRAFF 5596
ROSE OF MIRAGE 9521
EB RAHFAZA 61235
AZRAFF 5596
BRUMARBA RAHSEYNA 32121
TEHZRA-TAM 84540
c 1972
USHKABU 29318
ROLABU 17207
USHKADARA 8525
REBLIM TAM 52884
RABORON RASANDI 30418
HY-FARA 7952
Go Back
---

Home

History

Stallions & Colts

Mares & Fillies

For Sale

Reference Horses

Books

Links

Contact Me
---
Janice Siders (925) 275-1955
Copyright © 2008 Diablo Vista Arabians/Janice Siders

Website built and maintained by Azria Arabians
---