---

Home

History

Stallions & Colts

Mares & Fillies

For Sale

Reference Horses

Books

Links

Contact Me
---
Mi Gay Chanel 507569
Black Mare foaled August 10, 1993
Bred by Holly Rae Bradbury, Solvang, California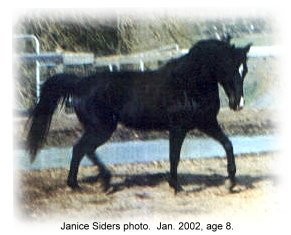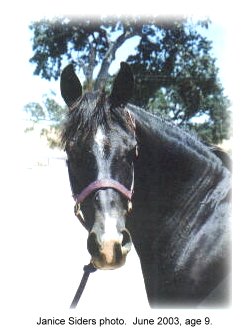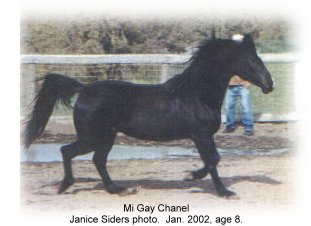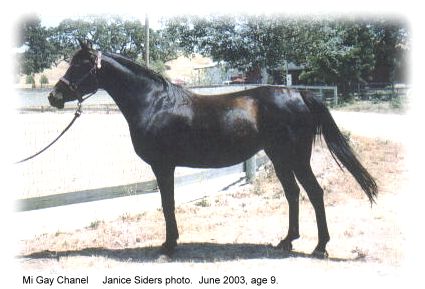 For some years Mi Gay Chanel was a quality part of the black segment of the Janice M. Siders breeding program. She was overall a good mare with good conformation and balance, a nice neck, and a nice disposition. She has particularly good feet.
About 1990 or 1991 Mrs. Siders and Carol Mulder saw the then 26 or 27 year old black stallion Gayronek. Even at that age he looked wonderful; he still looked like a much younger horse and dazzled with his correctness, classic Arabian beauty, and his superior trot. From the time Mrs. Siders first saw Gayronek, she hoped to one day have a quality daughter of his in her program. Mi Gay Chanel became that daughter. The remarkable Gayronek was 28 years old when he sired her.
Gayronek was bred to have his trot; he was double Ronek, a horse well known for passing on his brilliant natural trot. Gayronek's sire was the good trotting Risab (by Ronek). Gayronek's dam was Sahagay, by Gayr (by Ronek), a beautiful brown stallion who also had the trot. Gayronek's 3rd dam was a Jadaan daughter and Mrs. Siders liked this too. In his lifetime Jadaan enjoyed national and even international fame as the mount of movie star Rudolph Valentino (who died in 1926 at the age of 31). The beautiful, showy, and extremely good tempered Jadaan became a sort of icon for the public and won many people to the Arabian breed.
Mi Gay Chanel also brought in more very desirable blood via her dam, Mi Ebony Coquette, who was sired by Bay Beau Tu, a double grandson of Azraff, by *Raffles. The influence of the brilliant moving, classic, and beautiful *Raffles is much liked. Mi Ebony Coquette had another line to *Raffles too, on her dam's side, via Tut Ankh Amen. The stunningly beautiful Abu Baha, by the great Abu Farwa, is also behind Mi Ebony Coquette.
Mi Gay Chanel unexpectedly died in 2012 at age 18.
Written by © by Carol W. Mulder, 2013
Pedigree for Mi Gay Chanel
Sire line: Heijer
Family: Rodania
Sire
GAYRONEK
30143
k 1964

RISAB 6054
g 1950
RONEK 807
g 1931
*RASEYN 597
SKOWRONEK
RAYYA
BAHREYN 603
*RIZVAN 381
*BATTLA 345
FADAHMA 1245
b 1936
*FADL 896
IBN RABDAN
MAHROUSSA
*BINT BINT SABBAH 894
BAYYAD
BINT SABBAH
SAHAGAY 4468
b 1947
GAYR 1942
b 1940
RONEK 807
*RASEYN 597
BAHREYN 603
*BARAKAT 1218
FONDAK
*MECA 1219
SAHABET 2110
g 1941
TANATRA 444
HARARA 122
TAMARINSK 331
JADUR 756
JADAAN 196
SEDJUR 193
Dam
MI EBONY COQUETTE
366033
k 1986

BAY BEAU TU 191143
b 1979

COMAR BAY BEAU 24184
b 1963
AZRAFF 5596
*RAFFLES 952
*AZJA IV 1543
ROSE OF MIRAGE 9521
AL-MARAH IBN INDRAFF 6696
AMULET 3918
EB RAHFAZA 61235
b 1970
AZRAFF 5596
*RAFFLES 952
*AZJA IV 1543
BRUMARBA RAHSEYNA 32121
STAR-SIRZA 22718
RAZADE 2341
TEHZRA-TAM 84540
c 1972

USHKABU 29318
c 1964
ROLABU 17207
ABU BAHA 4676
ROALLA 6402
USHKADARA 8525
TUT ANKH AMEN 3830
REIHANA 4935
REBLIM TAM 52884
c 1968
RABORON RASANDI 30418
RAS SIBIL 9991
TRIPLE A KAKANDI 16945
HY-FARA 7952
HAFAR 2481
HAYKA 3044
Go Back
---

Home

History

Stallions & Colts

Mares & Fillies

For Sale

Reference Horses

Books

Links

Contact Me
---
Janice Siders (925) 275-1955
Diablo Vista Arabians
Website built and maintained by Azria Arabians
---