---

Home

History

Stallions & Colts

Mares & Fillies

For Sale

Reference Horses

Books

Links

Contact Me
---
Prides Merit 272847
Bay Stallion foaled March 27, 1982.
Bred by Elizabeth H. Rily, Waddell, Arizona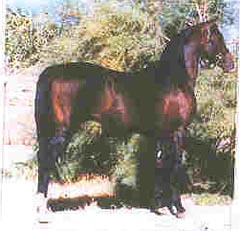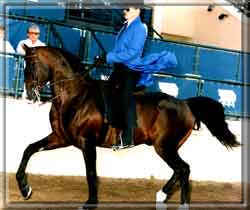 This beautiful, stylish, upstanding horse, with his spectacular and totally correct natural trot, epitomized much of what many people most desire in Arabian horses.
Not only was Prides Merit an outstanding individual, but he was also very well bred; his pedigree easily explains why he was so good, as well as why he possessed his magnificent trot.
His sire, Aur Pride, was a full-brother to the race winning Aur Patriot. See reference stallion Aur Patriot for pedigree details.
From his damís side, Prides Merit carried 25% influence of the highly regarded old Draper breeding program in California; this program blended Crabbet/American lines, with emphasis on Skowronek/*Raseyn, with the lines of the Drapersí own original Spanish 1934 imports. Prides Merit could boast of two of the Drapersí most influential founding sires: Sureyn, who in his era sired a great many show champions, and the brilliant trotting Caravan, who lived to be 38 years old. Also in Prides Meritís damís pedigree are seen such American Arabian stallion greats as: the Skowronek son *Raffles, who also had a spectacular trot and was one of the most influential Arabian stallions ever imported to the United States; Alla Amarward, for years one of the three leading sires in North America, who is represented in this pedigree via his son Wardamar Alla; the great progenitor Gulastra, represented via his beautiful son Katar; and the desert bred *Mirage, represented via his son Rifage, who was for many years a chief sire at the yesteryear famous Van Vleet Stud in Colorado.
With Permission from the Author, Carol W. Mulder. Copyright © 2005 by Carol W. Mulder.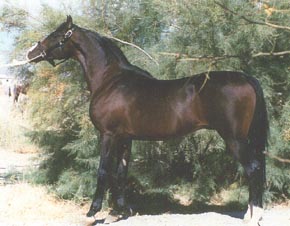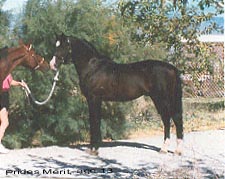 Pedigree for Prides Merit
Sire line: Barq
Family: Rodania
Sire
AUR PRIDE 88328
b 1972
J. Nelson
California
AURAB 12488
c 1957
E. Hurlbutt
California
AULANI 1801
c 1940
RIFNAS 924
*NASIK 604
*RIFLA 601
FOLLYAT 827
BABYAT 460
FENZILEH 555
RABNA 3622
c 1946
NARZIGH 1745
GHAZI 560
NAFARA 839
RABKHAL 1402
REHAL 504
RABK 795
ALYNA 21497
g 1962
J. Nelson
California
NATAF 4835
g 1948
FARANA 708
*NASIK 604
*FARASIN 615
*INCORONATA 1200
SKOWRONEK
NISREEN
ALEBA 4276
g 1947
ALYF 1465
RONEK 807
FATH 583
BAZIKH 618
*ABU ZEYD 82
BAZRAH 378
Dam
ALMA-KNIGHT-AKA 104939
g 1974
J. Bruns
Minnesota
SUR-KNIGHT 13893
g 1958
J. Draper
California
SUREYN 1886
g 1940
*RASEYN 597
SKOWRONEK
RAYYA
*CRABBET SURA 1199
SKOWRONKEK
SARDHANA
CARMENCITA 2723
c 1943
CARAVAN 1558
RIBAL 397
FASAL 330
*MENFIS 1217
EGIPTO
SIRIA
BINT-AKA 17881
g 1960
L & M Ranch
Colorado
AKA 9957
g 1955
INDY 4382
*RAFFLES 952
*INDAIA 813
TAYIBALLEH 4941
WARDAMAR ALLA 2539
TA'YIBEH 1884
KASALAH 9051
b 1954
KAHAR 1159
KATAR 724
NIHT 578
SALULAH 4643
RIFAGE 1286
SELTA 1630
Go Back
---

Home

History

Stallions & Colts

Mares & Fillies

For Sale

Reference Horses

Books

Links

Contact Me
---
Janice Siders (925) 275-1955
Diablo Vista Arabians
Website built and maintained by Azria Arabians
---