---

Home

History

Stallions & Colts

Mares & Fillies

For Sale

Reference Horses

Books

Links

Contact Me
---
Farana 708
Written in 2007
with update
2018 addendum #1 about Aur Aquavit
and
2018 addendum #2 about Farana's death at the end of article

Bay Stallion foaled June 5, 1929
Bred by W. K. Kellogg, Pomona, California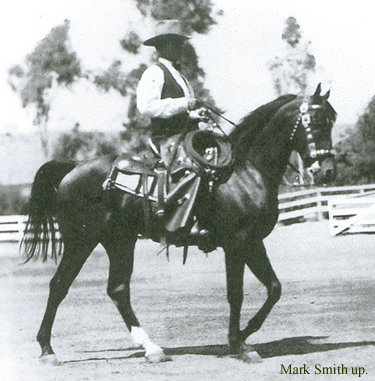 Farana was one of the greatest of the Arabian stallions bred by the old (1925-1963) Kellogg Ranch at Pomona, California, which was one of the most significant Arabian studs in the United States.
Farana was a widely renowned athlete - a 1930s era stock horse - so phenomenal that he became a legend in his own time. For those who have been lucky enough to see movies of him at work, he is still today (in the 21st century) a horse of awe. He was also a consistently good sire and a horse of quality with outstanding individual merit.
In his 1958 book, The Kellogg Arabians, written in collaboration with Gladys Brown Edwards, Herbert H. Reese (the shaping manager of the old Kellogg Ranch) described Farana's work, saying that Farana showed "speed and precision," and "dizzying spins" with "electrifying response to the rein." Mr. Reese continued: "A spectacular worker, Farana was especially good at spinning, a type of showmanship demanded of stockhorses in those days to indicate their reining ability, and he could whirl so fast that he occasionally 'spun' right out from under his rider. Farana slid to the straight 'figure eleven' stops as well as any low-headed Quarter Horse, with instant take-off into a run when so indicated. Stockhorses in those days also had to work with the rope and he held the 'calf' with a taut rope at all times..... Farana could out-perform all exhibition stock horses of his day. He could also back faster than the average horse can trot, and would back uphill out of the arena at Kellogg's at a fast clip as a finale to his performance."
This finale to Farana's exhibition performance was always liked by the Kellogg Sunday show audiences. Facing the audience as Farana backed out of the ring, his trainer-rider Mark Smith, with a fine touch of showmanship, removed his hat in the gallant old-world way as a sort of saluting good-bye as he and Farana so dramatically (it was dramatic because of the awesome speed of Farana as he backed up the entrance/exit incline) left the show ring.
Regarding Mr. Reese's remark about Farana occasionally spinning out from under his rider, to my knowledge Farana never spun out from under Mark Smith, and he was certainly not a horse many people rode, but after Mark left the Kellogg Ranch, in about 1945 when Farana was about 16, a few others did sometimes ride Farana. Remount soldier Sgt. Ira Springer, an experienced and good horseman, rode Farana briefly in the Sunday exhibitions after Mark left, and Farana did spin out from under Sgt. Springer, seriously injuring him; Farana's reining spins were more than Sgt. Springer had previously encountered and evidently caught him by surprise. After this, without Mark Smith to ride him, Farana was prudently retired from his exhibition stock horse work.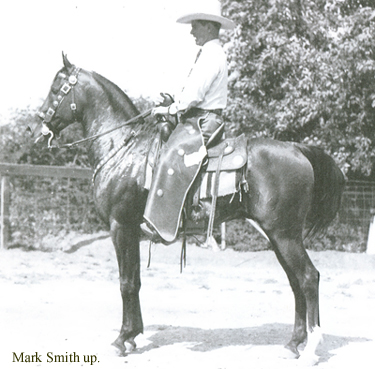 Mark Smith, Farana's trainer, told me of the extreme lightness of Farana's mouth, his willingness, and his phenomenal speed in responding. "One of the fastest things on his feet I ever sat on," he said.
Farana was a handsome mahogany bay. His coat often had an individualistic shiny quality that made him glisten in the sun. He was thin skinned and fine haired and this caused the veins just under his skin to stand out visibly as he warmed with exercise.
As he concentrated on his work, Farana had a distinctive way, characteristic of him, of letting both of his lips part from his front teeth, exposing them (the lips were not loose and flopping, but the parting of them gave a particular facial expression sometimes when Farana was working), and this became more noticeable as he aged and his teeth met at more of an angle. When his lips parted this way, his jaw remained relaxed and his mouth closed (he always worked with his mouth closed) - it was just the lips that parted. (He passed this distinctive trait on to some of his get and it even sometimes shows up some generations down the line from Farana; for instance, Aur Aquivit, one of the stallions of Janice Siders, is a great-great-grandson of Farana, and I have seen Aquivit's lips part in exactly this same distinctively Farana way as Aur Aquivit quietly concentrated on trying to please his handler for photographs.)
Farana naturally carried his head high, as seen in his pictures; this was in keeping with his general alert attitude. This natural carriage of his head was no doubt one of the reasons he was so amazingly balanced and able to get his hindquarters under him exceptionally well for his phenomenal athletic performances - which were all executed with his head up in its natural position.
For Farana, this beautiful, stylish Arabian head position was higher than is desired in modern stock horse show competition, but in Farana's day the different show standards allowed it; the important thing was the performance and ability of the horse. Of course, this remains true today - but also today some modern artificial show standards as regards form (some call it frame) are also part of the judging.
At 15-1 1/2 hands, Farana stood a little taller than most Arabians; the size range average for Arabians is 14-1 to 15-1. He was a well balanced, upstanding horse with a short, strong back. His loins, coupling, and hindquarters were all good. He was deep chested.
Among Farana's most noteworthy and distinctive qualities were his magnificent shoulders and withers. He was bred for these shoulders and withers, which came down to him from two clear original sources in his pedigree. Using photographs, the inheritance of these qualities can be clearly traced back several generations. One source was Mahruss I as follows: Farana / *Nasik / Rijm / Mahruss II / Mahruss I. The other source in Farana's pedigree was double Hadban [1878] as follows: Farana / *Nasik / Rijm / *Rose of Sharon / Hadban [1878], and Farana / *Nasik / Narghileh / Nefisa / Hadban [1878]. Thus it is no wonder that Farana possessed his outstanding shoulders and withers, and usually sired them; indeed, such shoulders and withers used to be a hallmark of Farana breeding and a desired legacy from him.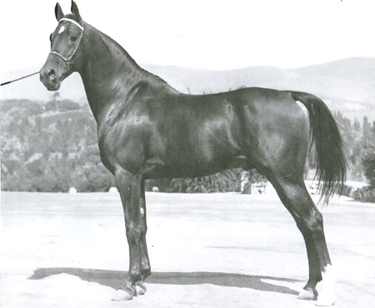 Farana had excellent legs and feet; indeed, when the United States Army Remount came to the Kellogg Ranch in the 1940s and rated all the Kellogg horses, Farana got an "excellent rating" on his legs and feet, despite a bone measurement of 7 1/4 inches, which was recorded and noted. (Arabian bone has historically and usually measured from 7 1/4 to 7 3/4 inches, with very few individuals going 8 inches. This is for bone measured in the traditional way, halfway between knee and fetlock, with the tape snug, but neither tight nor loose, and the horse standing square on the leg.) Not only were Farana's legs perfectly proportioned and well aligned, with good joints, but they were also of exceptionally clean and dry quality, with the tendons standing well delineated and away from his admirably flat bone. He grew very little fetlock hair. These were legs that positively advertised their proven toughness, durability, and outstanding "hard" strength quality; his legs visibly displayed the qualities that made many Arabian horse legs surpass in strength and durability the legs of many other horses with heavier bone.
Of Farana's legs, H. H. Reese wrote the following in The Kellogg Arabians: "Although shown for over ten years, twice each Sunday, occasionally worked during the week, and often on exhibitions at fairs and other shows, Farana remained sound and clean-legged ....." This pertained to Farana's demanding reining/stock performances.
Although Farana's head was not of the ideal classic type, it was attractive, fine, and unmistakably the head of an Arabian. It was rectangular in shape with a straight profile. His head was breedy, cleanly chiseled, and very dry. His nostrils were large, thin, and placed well up on his muzzle, as is ideal. He had an unusual sparkling quality to his dark eyes that seemed to reflect both his alertness and his interest in life; this special sparkle he passed on to some of his get (one such was his son Nataf). His ears were small, thin, finely cut, tipped (as different from curled - please see his photographs), and used smartly; his ears were what is desired in Arabian horse ears. The head of Farana contributed to the overall impression that he was a horse of fine breeding and high quality.
Farana also displayed a very good high, straight (meaning not wry), and airy Arabian tail carriage.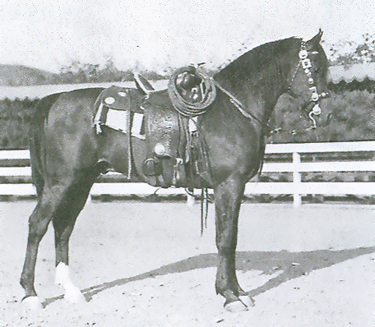 The general impression made by Farana was that he was a beautiful Arabian of refinement and exceptional high quality. He was very stylish, alert, animated, and extremely quick moving; he possessed unsurpassed agility and nimbleness.
As is the case with many of the best Arabian athletes, Farana's trot was considerably better than average, although it was not in the "brilliant" category. His trot was perfectly balanced. His way-of-going (often today called "tracking") was straight and true.
In disposition, Farana was sometimes described as rather nervous and tense. There is no doubt that he was very sensitive; he even had to be groomed with particular and careful gentleness because he was "ticklish." He could also be "quirky," as shown by his history.
Mark Smith said, "Farana was a peculiar horse, you had to understand him. It took awhile to figure him out." Not everyone did figure Farana out. He was not every person's horse. His person had to know when to handle him with "silk gloves" and when to be firmer with him. Mark Smith understood all this perfectly. It was always clear that Farana liked Mark and would do his best for him, and certainly Mark liked Farana. They were an extraordinary team and understood each other well.
Kellogg trainer Charles Smith (no relation to Mark Smith) remembered Farana as a foal. He described him as a "cocky" colt, good looking from the start. He was halter broken and taught the basic things at this time, handling of his feet, etc.
When Farana was 2 years old, because of the athletic ability he displayed it was decided to train him as a liberty jumper for the famous Kellogg Ranch Sunday afternoon exhibitions. This training was done by a very capable trainer, Lou Treesh, who also trained the 1927 chestnut stallion Pep 611 (Letan 86 x Fasal 330), the trick stallion who was the first star of the first Sunday afternoon Kellogg shows. Mr. Treesh also trained 1928 Rossika 659 (*Nasik 604 x *Rossana 598), the bay trick-trained mare who succeeded Pep in the Sunday exhibitions.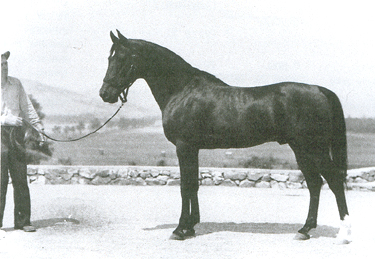 Farana progressed nicely in his liberty jumping, despite not showing much interest in this task that was so easy for him, until an unfortunate accident in which he fell, almost breaking his neck. So severely was his neck injured that, even though the treating veterinarian did all that was possible for him at that time, it was several days before he could raise his head to its normal position, and several weeks before his neck was completely well.
Next Farana was turned over to Kellogg trainer Mark Smith, who trained him to drive to the cart and to do the "Spanish march" in harness. He was shown in the Kellogg Sunday shows for awhile in this capacity, driven by Mark's wife, Stella Smith. Although Farana did all of this well, he showed no real interest in it; evidently he found it too "ho-hum."
As a 3-year old, Farana was trained to ride and then, because of his good trot, he was next put in finer training by English trainer Charles Smith as a 3-gaited English exhibition horse, but this work did not seem to inspire him or engage the best of him either - although he did credibly well.
Mark and Charles - and everyone else at the old Kellogg Ranch, including Mr. Reese - knew that Farana had potential for greatness, if the right job could be found for him. Because of his extreme agility, nimbleness, quickness, and lightness on his feet, it was decided that Mark would try Farana as a stock/reining horse. This fast, keen and demanding work caught Farana's full interest and also gave him the full physical engagement he liked. He took to reining/stock work wholeheartedly. He never became bored with this work. He put his all into it - and became famous.
Not only was Farana a star attraction as a stock horse at the Kellogg Sunday afternoon exhibitions, and at fairs and other exhibitions, but he was also shown on a limited basis in both halter and stock horse competition. He was always sensational. During his short competitive show career, he won a first or second in every stock horse class in which he was entered, against the best of competition. He was Champion Arabian Stallion at the 1933 California State Fair, also winning the Light Weight Stock Horse class. He was again champion at the 1933 Coronado National Horse Show, and the same year was Champion Stock Horse. In 1933 Farana was 4 years old. Soon competitors became disinclined to show against him and so he was retired from competition - although he continued for years to give exhibitions.
Some of the exhibitions in which Farana appeared both before and after his retirement from show competition required rather extensive travel, nearly always with other Kellogg Arabians. Included were such places as the 1933 Santa Monica Pioneer Day Parade in California, the 1933 San Joaquin County Fair at Stockton, California, the 1933 California State Fair at Sacramento, the 1933 Western Washington Fair at Puyallup, and the 1933 Washington State Fair at Yakima.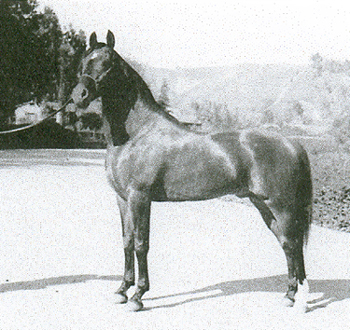 In 1934, at age 5, Farana had a part in the Hollywood movie Broadway Bill. It was a Frank Capra comedy in which actor Warner Baxter played a businessman, troubled by his dead-end job and his coying wife, who bought a racehorse named Broadway Bill. He entered the horse in a big race, but was confronted by shady gamblers, large debts, and a sick pony before the finish line was sighted. Also starring were Myrna Loy, Walter Connolly, and Helen Vinson. (This information about the movie is from an Internet advertisement for a DVD of the film.)
In 1935, when he was 6, Farana was one of several Kellogg Arabians sent to the Days of Saladin exhibition in San Diego, California, which ran for 6 months.
Farana was a beautifully bred horse. He was 100% Crabbet. World famous Crabbet Stud in England was founded in 1878 by Wilfrid and Lady Anne Blunt.
In Farana's 5-generation pedigree (not including him as a generation), four of the original desert bred founding mares of Crabbet are seen; these were 1869 chestnut Rodania, 1875 brown Queen of Sheba, 1876 bay Dajania, and 1886 bay Ferida, all purchased by the Blunts during their own desert travels. Another desert bred, the 1878 bay stallion Hadban [1878], was purchased by the Blunts in India where the horse had previously been taken. Also seen in Farana's 5 generation pedigree are the following four stallions bred by Ali Pasha Sherif in Egypt, acquired by the Blunts, and taken to their Crabbet Stud: 1887 chestnut Mesaoud, 1887 chestnut Merzuk, 1893 chestnut Mahruss II, and 1894 chestnut Feysul.
Farana's sire, Crabbet-bred *Nasik, a spectacular bay foaled in 1908, was one of the most important early Kellogg sires. Farana's 2nd dam, 1913 bay *Ferda, was one of the greatest Arabian mares ever brought to the United States.
Farana had nine full-siblings: 1928 bay mare Treyf 657 (retained by Kellogg), 1930 bay stallion Farik 753, 1931 bay mare Nafara 839, 1932 bay mare Narasa 920, 1933 bay stallion Sikin 964 (retained by Kellogg), 1934 bay stallion El Nahas 1047, 1935 bay mare Farnasa 1130 (retained by Kellogg), 1936 chestnut mare Nasina 1226, and 1937 bay mare Sikara 1444.
Another great son of *Nasik, 1932 chestnut Rifnas 924, was 3/4 brother to Farana.
It may have been in about 1947 that famous Arabian horse artist, historian, researcher, and writer Gladys Brown Edwards made a sculpture of Farana under saddle as a stock horse. A picture of this fine work may be seen on page 83 in Mary Jane Parkinson's valuable 2006 soft cover book, Gladys Brown Edwards. The caption with the picture does not say that the horse depicts Farana, but Gladys made it as Farana, using him as the model, and it looks like Farana - it is very accurately Farana.
In October of 1947, the U.S. Remount made Farana available an an issue stallion and in March of 1948, at age 18, he went to the University of Idaho, Moscow, Idaho. He died there, during exercise, on April 10, 1949, at age 19. The cause of death was said to be "hemorrhage of the brain."
While that was the "official" record of the death of Farana, unsubstantiated and dismayed "hush" talk at the Kellogg Ranch recounted a different story which held that an unidentified University of Idaho student had taken, without authorization or permission, Farana for a ride and had run him until he dropped dead. I know of no verification for this story and have no clue as to whether or not it was true, nor do I know the source of it.
In any case, Farana was evidently buried in an unmarked grave on property owned by the University of Idaho.
With Permission from the Author,
Carol W. Mulder.
Copyright © 2007 by Carol W. Mulder
Addendum #1 of July 2018
The chestnut stallion Aur Aquavit 580994 (Aur Pride x Royal Night), foaled July 26, 1998, mentioned in the above article as great-great-grandson of Farana who sometimes parted his lips in the Farana manner, and owned by Janice Siders, in 2012 became the property of Whitney West, Oroville, California. Just two days after his 20th birthday, on July 28, 2018, Aquavit participated in the 2018 Tevis Cup Ride. It is 100 miles in one day (24 hours) and is known throughout the horse world as one of the toughest of all endurance competitions. There were some (more or less) 123 starters, but only 64 of them, or about 52% of them, finished. Aquavit, ridden by his owner, Whitney West, finished #60 out of 64. It was his first 100 mile ride.
Addendum #2 of August 2018
In the above article, the unsubstantiated purported circumstances surrounding the death of Farana are now known to have been incorrect - except for the actual cause of death.
In late August 2018 a 90 year old woman living in the state of Washington contacted me via Janice Siders as she had heard about my Farana article on Janice's web site and wanted to correct that part. She is Phyllis Stricker Lacy and she was able to give actual and factual details about the death of Farana - because she was there with him when he died.
On April 20, 1949, the day of Farana's death, Phyllis Stricker and her fiance, Jack Lacy, both students at University of Idaho, went out on a short ride together. Jack, an agricultural student who as a sophomore had matriculated to University of Idaho from his native Dallas, Texas, had been given the job of assisting in the care and exercising of Farana. In this capacity, he had frequently taken Farana out on short rides. Jack had previous experience working during a summer at the Ellis ranch in the panhandle of Texas.
On the day of Farana's death, Jack took Farana out on a short ride for exercise. He invited Phyllis to go with him; she rode a Morgan mare. The ride was, as usual for Farana's exercise, not very long. They never went faster than a walk. They stopped in a field, sat on logs, holding the horses, to talk and rest.
When they started out again, Farana and Jack were walking a little ahead of Phyllis. Farana's left hind leg faltered, as though he had stepped in a hole, but there was no hole. Not many steps after, the horse simply collapsed and went down. Jack mostly fell clear of him, but one of his legs was pinned under the horse. He got it out and pulled the saddle off Farana, who was still alive. Phyllis raced on the Morgan mare to get help. Farana died with his head in Jack's lap.
The postmortem of Farana found the cause of death to be "hemorrhage of the brain." It was nobody's fault at all - it just happened that Farana had some kind of circulatory problem in his brain; one wonders if it was an aneurism that broke (which dould, or could not, have been present all his life, but only broke when he was 19 years old), but that is only speculation.
Jack Lacy went on the become a Colonel in the U.S. Air Force where he served for many years, then a ranch owner himself in eastern Washington, and finally a member of the Board of Directors of an Insurance company. Jack Lacy died in 2003.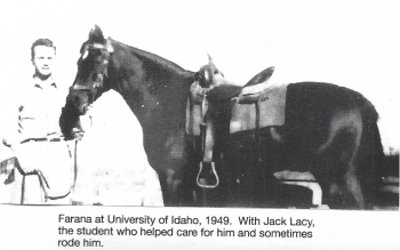 As author of this Farana article, it is very important to me, personally, to be as accurate as possible, so I am very grateful to Mrs. Lacy for contacting me with these first-hand known actual facts about the death of Farana. It seems rather wondrous that she, at age 90, and I, at age 86, got together (so to speak) to record the truth abouth the death, 69 years ago, of this historic and great horse - Farana.
With Permission from the Author,
Carol W. Mulder.
Copyright © 2018 by Carol W. Mulder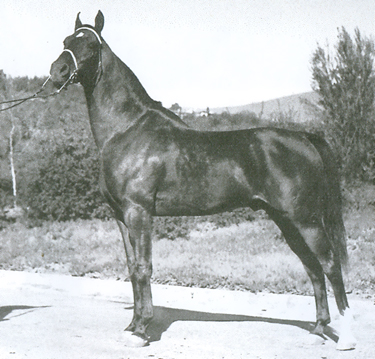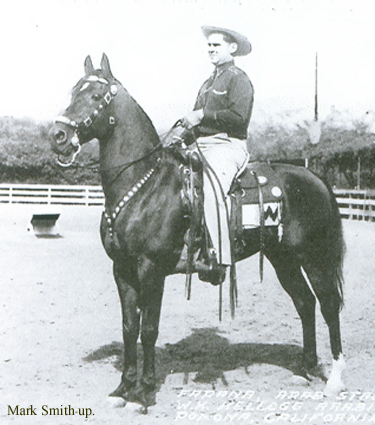 Pedigree for Farana
Sire line: Barq
Family: Ferida
Sire
*NASIK 604
b 1908
Crabbet Stud
England
RIJM
c 1901
Crabbet Stud
England
MAHRUSS II
c 1893
MAHRUSS I
WAZIR
BINT FARAS SAOUDA
BINT NURA II
AZIZ II
BINT NURA I
*ROSE OF SHARON 246
c 1885
HADBAN [1878]
desert bred
desert bred
RODANIA
desert bred
desert bred
NARGHILEH
b 1895
Crabbet Stud
England
MESAOUD
c 1887
AZIZ II
HARKAN
AZIZA I
YEMAMEH I
SHUEYMAN
BINT GHAZIEH
NEFISA
b 1885
HADBAN [1878]
desert bred
desert bred
DAJANIA
desert bred
desert bred
Dam
*FARASIN 615
b 1920
Crabbet Stud
England
RASIM
c 1906
Crabbet Stud
England
FEYSUL
c 1894
IBN NURA
SOTTAM
BINT NURA I
EL ARGAA
WAZIRI AL AUWAL
BINT JELLABIET FEYSUL
RISALA
c 1900
MESAOUD
AZIZ II
YEMAMEH I
RIDAA
MERZUK
*ROSE OF SHARON 246
*FERDA 596
b 1913
Crabbet Stud
England
RUSTEM
b 1908
*ASTRALED 238
MESAOUD
QUEEN OF SHEBA
RIDAA
MERZUK
*ROSE OF SHARON 246
FELUKA
c 1899
MESAOUD
AZIZ II
YEMAMEH I
FERIDA
desert bred
desert bred
Go Back
---

Home

History

Stallions & Colts

Mares & Fillies

For Sale

Reference Horses

Books

Links

Contact Me
---
Janice Siders (925) 275-1955
Diablo Vista Arabians
Website built and maintained by Azria Arabians
---