---

Home

History

Stallions & Colts

Mares & Fillies

For Sale

Reference Horses

Books

Links

Contact Me
---
Aur Aquavit 580994
Chestnut Stallion foaled July 26, 1998
Bred by Elizabeth H. Rily (Janice M Siders), Anamoose, North Dakota
Aur Aquavit has three crosses to Aurab through two different sons, the brilliant trotting and very stylish Aur Pride and the internationally successful Ben Rabba, and a daughter, Aurzeya. Aur Aquavit's pedigree also features Nataf which some considered one of the two best sons of the great Kellogg sire and athlete Farana, and the brilliant trotting and beautiful headed Alyf, for some years chief sire at the old (1925-1963) Kellogg Ranch. Aur Aquavit's dam, Royal Night, was one of the best and most beautiful daughters of Night Dragon, and probably the most stylish one of all. Her dam was Dynasty Royalette, one of the best daughters of Royal Binis; for years Janice Siders tried to buy her before finally succeeding in getting her for her Diablo Vista breeding program. Royal Binis was a renowned show champion who often competed in English classes with Aurab. Aur Aquavit is Royal Night's only foal.
Aur Aquavit is a extremely dark liver chestnut. He features an unusually good disposition. He is sensible, brave, kind, very tolerant, and consistently agreeable and amenable. He is quiet, yet he can show considerable style and he has a very good and thrilling trot. He has good bone, joints, and feet. He has a nice Arabian head and a beautiful expressive face. He has fine Arabian eyes and nice ears. He has the strong loins and smooth coupling of his Aurab background.
Mrs. Elizabeth Rily of Anamoose, North Dakota, and Pahrump, Nevada, owned Aur Aquavit all his life until late 2004. When young he was injured, leaving his right hind hoof to grow out with a permanent split in its outside wall going all the way up to scar tissue in his coronet, however, this split is only in the outside wall and does not penetrate even the white line. By reason of his accident he was never ridden until 2012, when he was 14; at that time he showed that, in addition to his other attributes, he seemed to simply have been "born broke." Being ridden was a new thing in his life, but he took to it with aplomb and his usual quiet good confidence and adaptability, enjoying going out into and seeing the world on rides.
Mrs. Siders has retained Aur Aquavit's lovely, sweet tempered daughter, Sudden Romance, and so with necessity to limit her herd population was able to let Aur Aquavit go on August 22, 2012, to Whitney West, Oroville, California. It was Whitney who began riding Aur Aquavit.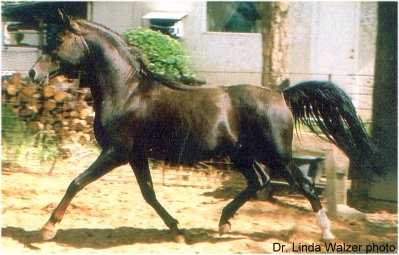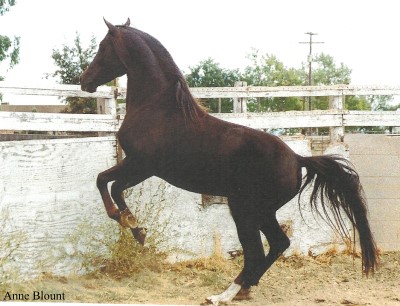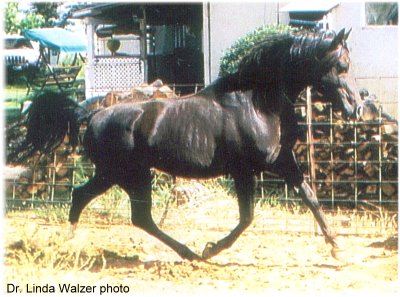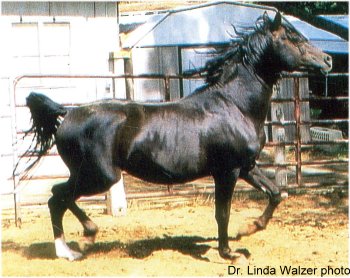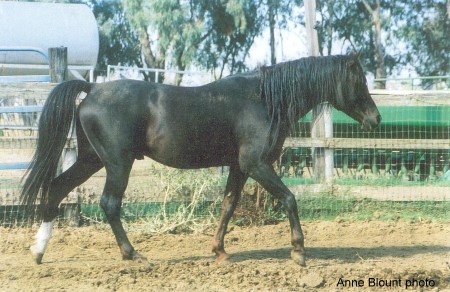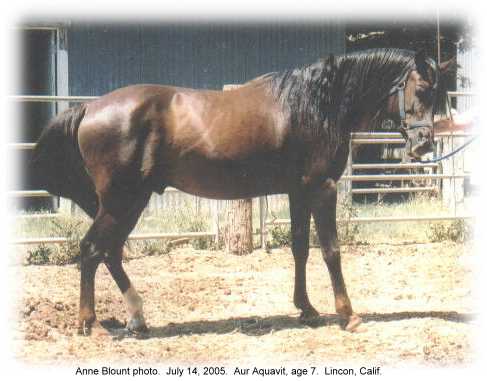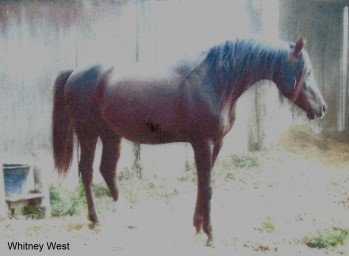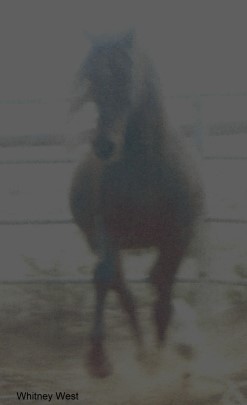 Pedigree for Aur Aquavit
Sire line: Barq
Family: Rodania
Sire
AUR PRIDE 88328
b 1972
AURAB 12488
c 1957
AULANI 1801
c 1940
RIFNAS 924
*NASIK 604
*RIFLA 601
FOLLYAT 827
BABYAT 460
FENZILEH 555
RABNA 3622
c 1946
NARZIGH 1745
GHAZI 560
NAFARA 839
RABKHAL 1402
REHAL 504
RABK 795
ALYNA 21497
g 1962
NATAF 4835
g 1948
FARANA 708
*NASIK 604
*FARASIN 615
*INCORONATA 1200
SKOWRONEK
NISREEN
ALEBA 4276
g 1947
ALYF 1465
RONEK 807
FATH 583
BAZIKH 618
*ABU ZEYD
BAZRAH 378
Dam
ROYAL NIGHT 445713
c 1989
J. Siders
NIGHT DRAGON 285176
c 1983
J. Siders
BEN RABBA 29921
c 1964
AURAB 12488
AULANI 1801
RABNA 3622
ROLLICKA 15286
SAROLLE 6171
COALANI 8419
AURZEYA 122236
c 1975
AURAB 12488
AULANI 1801
RABNA 3622
MARZEYA 30790
ZEY 10821
MARLAN 16102
DYNASTY ROYALETTE 82463
c 1972
ROYAL BINIS 20101
c 1961
BINIS 3050
ISLAM 1709
BINNI 1815
HAMNAN 7278
MUALLIM 2591
ATA AIA 2630
MISS FARWA 32471
c 1965
AZREK-SKOWRONEK 8987
ANTEZEYN SKOWRONEK 5321
WAFA EL SHAMMAR 6406
TARI SABA 12108
ABU FARWA 1960
HUMR-RUS 8091
Go Back
---

Home

History

Stallions & Colts

Mares & Fillies

For Sale

Reference Horses

Books

Links

Contact Me
---
Janice Siders (925) 275-1955
Diablo Vista Arabians

Copyright © 2008 Diablo Vista Arabians/Janice Siders

Website built and maintained by Azria Arabians
---