---

Home

History

Stallions & Colts

Mares & Fillies

For Sale

Reference Horses

Books

Links

Contact Me
---
Zadir 8096
Chestnut Stallion foaled June 28, 1952
Bred by California State Polytechnic College,
Kellogg Ranch, Pomona, Calif.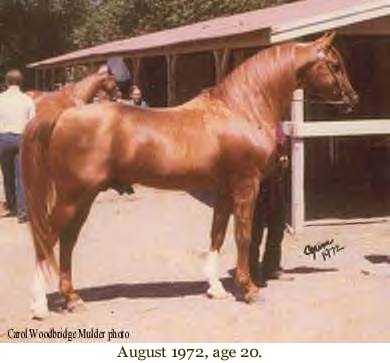 Zadir was one of the truly outstanding Kellogg-bred individuals and sires of his time.
His sire was Donald Jones's brilliant trotting and very stylish Faronek, who got his trot from his Kellogg-bred sire, Ronek. Farhan's dam was a mare of 100% 1906 Home Davenport importation pedigree.
Zadir's dam was the magnificent big (15-1 hands) mare Gazya, own daughter of the great Rabiyat who was widely renowned for her absolutely brilliant and superior trot. For many years sequence shots of Rabiyat were used to educate about the best kind of Arabian trot. As is the case with many good trotting Arabians, Rabiyat was actually an all-round athlete who had been successfully used for playing polo prior to being purchased from her breeder, W. R. Brown, by W. K. Kellogg. Rabiyat was also a broodmare of excellence; in addition to Gazya, Rabiyat also produced the great Kellogg sire Rabiyas, who was sire of the even greater Abu Farwa. Gazya's sire was the extremely beautiful Sikin, full-brother to the great athlete Farana, and of 100% Crabbet pedigree.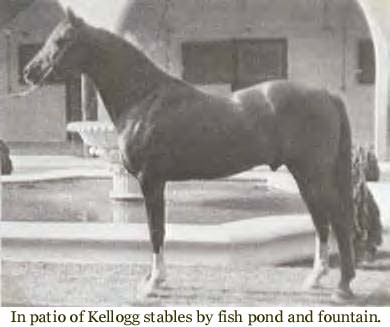 Gazya had her dam's brilliant trot. She was also an ideally conformed mare with ample Arabian type, including a particularly beautiful head with jibbah, dish, fine muzzle, and large jowls.
Zadir, himself, was a horse of ideal conformation and balance, with very good legs; he was a "horseman's horse" type. He also had ample Arabian type and style, including an excellent Arabian tail carriage. While he was appreciated for all that, he was most appreciated for his absolutely fabulous hindquarters, combined with strong loins and smooth coupling. His hindquarters were ideally square in construction, with long, powerful hips.
Zadir was also known for frequently siring the brilliant trotting ability so strong in his pedigree, and also for the truly outstanding all around athletic ability of many of his get. His most famous son was Zzahar, who was 1981 U.S. National Champion Working Cow Horse, 1981 U. S. Top Ten Stock Horse, 1986 Canadian National Champion Working Cow Horse, and 1986 Canadian National Champion Stock Horse. It is interesting to note that while only a small handful of Zadir get ever went into the show ring, all of those few who did became major performance champions in various disciplines.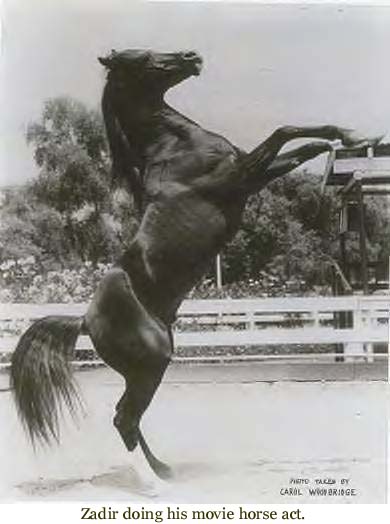 In about 1953 Anthony A. Amaral came to California State Polytechnic College, Kellogg Unit, as a student, newly discharged from the U.S. Army. Tony, from Yonkers, New York, was a natural-born horseman of rare and extraordinary ability and talent. He was soon noticed by senior Kellogg trainer Charles A. Smith (who had been with the Kellogg Ranch since 1929). Thus, when Zadir was old enough to train to ride, Tony trained him. A strong bond developed between the two. After Tony's student days he stayed on at Cal Poly Kellogg as a Kellogg trainer. Zadir was a nice, sensible riding horse, but Tony, who loved the horse who seemed to have become exclusively "his" at the ranch, began to train him for more. Tony, who was very interested in movie horses (he later wrote the 1962 book Motion Picture Horses, and the 1967 book Movie Horses, Their Treatment and Training*), realized that the quick witted Zadir would make an ideal "movie horse" for the Sunday afternoon Kellogg exhibitions.
Accordingly, Tony trained Zadir to work on hand signal cues with the trainer (Tony) so far away as to be out of camera range in an actual movie horse setting. In effect, this meant that Zadir working almost alone. He reared, he pretended he was lame in a foreleg, he lay down, and most interesting of all to many who saw him work was his frightening and convincingly authentic looking chase of a man (again, Tony). Zadir would pin his ears, open his mouth wide, and, head stretched out, CHARGE the trainer, who turned to run from the horse. As Zadir thundered down on Tony, the trainer did come into the camera range. The cue for Zadir to stop was for the trainer to stop and turn, facing the horse. At this, Zadir would stop, close his mouth, put his ears up, and lay his head quietly on Tony's shoulder. There was perfect understanding between them.
When eventually Tony left Cal Poly Kellogg employ to go to Arizona to manage the Robert Aste Arabian Ranch at Scottsdale, Zadir was sold by Cal Poly to a movie bit player who sometimes rode him in movies, but who mainly wanted Zadir just for his private saddle horse. (While still at Cal Poly Kellogg, Zadir had appeared, with other Kellogg stallions, in the Hollywood movie Rains of Ranchipur, with Lana Turner). When after some years Zadir's owner died, Kim Collier, of central coastal and Sierra Nevada range California, bought Zadir.
Kim, who had first seen Zadir at Cal Poly Kellogg when she was a child of 9 years, had always wanted to own him. It was her childhood dream to own him, and she carried this dream with her into adulthood and married life. She had corresponded with his movie bit player owner and kept track of Zadir. Fortunately for the future good of the Arabian horse, Kim gave Zadir a chance to sire more foals in his old age - and many people, once they had seen this horse, wanted to have foals by him; he became a popular and in demand sire. During Zadir's years of ownership by the movie bit player he had never been used for breeding, although he had shown himself to be a very good sire at Cal Poly Kellogg.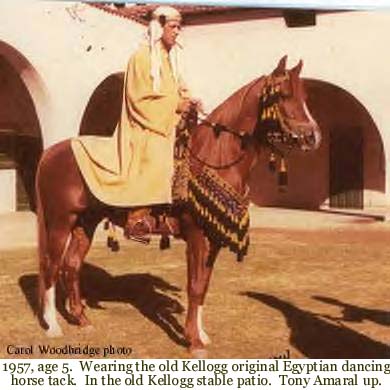 All his life Zadir seemed to need one person with whom he could bond. For years it was Tony, then the movie bit player, and last Kim. He formed very special and strong relationships with these people, and, although he was tolerant of other people, he really did not seem to care to make particular friends with anyone beyond "his" person of the time. Nonetheless, he always seemed to like children.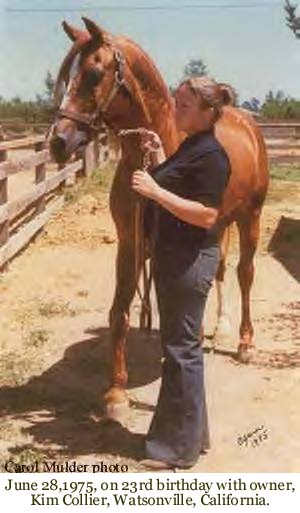 Kim also occasionally took Zadir to Arabian shows to exhibit his movie horse routine, which Tony Amaral had taught her. Like Tony, Kim is a natural-born horse person with exceptional talent and intuition. At one exhibition, when Zadir began his ferocious looking charge and chase, he overran Kim more quickly than either realized. She turned, the cue for him to stop, but he was so close to her that when he closed his mouth his teeth closed over the front of her sweater, ripping it. He knew he should not have done this. He put his head over her shoulder and would not leave her, wanting her to reassure him. To make him forget, she led him by his mane to the arena fence where some children were hanging over. Zadir put his head to them to be petted - and with this comforting interaction his spirits were restored.
He was also very good and quiet around other horses. Kim used to put newly weaned foals with him and he "took care" of them, even being kind when now and then one checked to see if he had an udder with milk. He would simply push them away with his stifle. When feeding time came, he stood back so they could get in position at the feeding stations before he himself then joined them. If something frightened these youngsters, they went to Zadir for comfort and reassurance - which he gave them.
Zadir truly was an exceptional individual, an outstanding Arabian, and a good, strong sire.
(*Tony Amaral also wrote other books: 1961 Comanche, the Horse That Survived the Custer Massacre; 1967 Will James: The Gilt Edged Cowboy; 1977 Mustang; and 1977 How to Train Your Horse.)
With Permission from the Author, Carol W. Mulder. Copyright © 2006 by Carol W. Mulder
Pedigree for Zadir
Sire line: Heijer
Family: Rodania
Sire
FARONEK 2058
C 1941
D. L. Jones
California
RONEK 807
G 1931
Kellogg
California
*RASEYN 597
G 1923
SKOWRONEK
IBRAHIM
JASKOLKA
RAYYA
RUSTEM
RIADA
BAHREYN 603
B 1924
*RIZVAN 381
IBN YASHMAK
*RIJMA 346
*BATTLA 345
RAZAZ
BUKRA
FARHAN 684
C 1928
F. E. Lewis II
California
DHAREB 537
G 1924
LETAN 86
*MUSON 27
*JEDAH 44
MOLIAH 109
*HAMRAH 28
*WADDUDA 30
MIRIZ 538
C 1924
ZIKI 415
*HAMRAH 28
SAMIT 153
*SALEEFY 70
*HALEB 25
*URFAH 40
Dam
GAZYA 2588
B 1943
Kellogg
California
SIKIN 964
B 1933
Kellogg
California
*NASIK 604
B 1908
RIJM
MAHRUSS II
*ROSE OF SHARON 246
NARGHILEH
MESAOUD
NEFISA
*FARASIN 615
B 1920
RASIM
FEYSUL
RISALA
*FERDA 596
RUSTEM
FELUKA
RABIYAT 577
B 1926
W. K. Brown
New Hampshire
REHAL 504
C 1923
SIDI 223
KHALED 5
ROSA RUGOSA 166
*RAMIM 348
*BERK 343
RIM
*ROKHSA 351
B 1915
*NASIK 604
RIJM
NARGHILEH
ROKHAMA
*ASTRALED 238
RABLA
Go Back
---

Home

History

Stallions & Colts

Mares & Fillies

For Sale

Reference Horses

Books

Links

Contact Me
---
Janice Siders (925) 275-1955
Diablo Vista Arabians
Website built and maintained by Azria Arabians
---