---

Home

History

Stallions & Colts

Mares & Fillies

For Sale

Reference Horses

Books

Links

Contact Me
---
Night Dragon 285176
Chestnut Stallion foaled July 2, 1983
Bred by Janice M. Siders, Diablo, California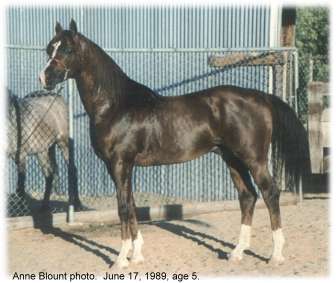 Of her deceased stallion Night Dragon, Janice Siders says: "When Night Dragon was foaled, he was my 9th colt in a row. I had wanted a filly, but it was soon clear that Night Dragon was a truly exceptional colt that should be kept for my breeding program. He was always so outstanding that several people wanted him, including Ed Hubbert, owner of his sire, Ben Rabba."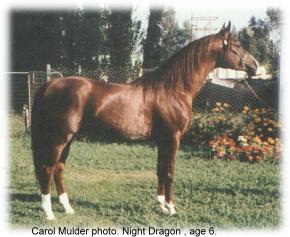 Night Dragon was one of only three sons of the great Ben Rabba which were also double grandsons of Aurab. The others: Ohadi Ben Rabba, a successful sire, and Ohadi Rabbaniq, never used for breeding.
Night Dragon was a liver chestnut like his tall and elegant dam, Aurzeya. He was a big Arabian; he stood 15-2 1/2 hands, barefooted, normal hoof length, stick and level (the size range average for Arabians is 14-1 to 15-1 hands). His sire, Ben Rabba, stood 15-1 1/2 hands, and his topline grandsire, Aurab, stood just barely 15-1 hands. With this interesting increase in size each generation, Night Dragon in his turn made a big increase in size in this line when he sired his son Ambir Dragon who stands 16-1 1/2 hands.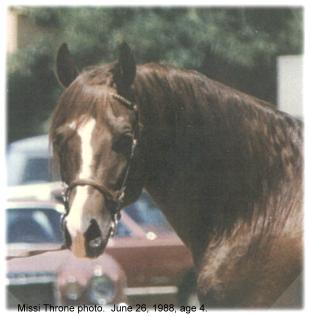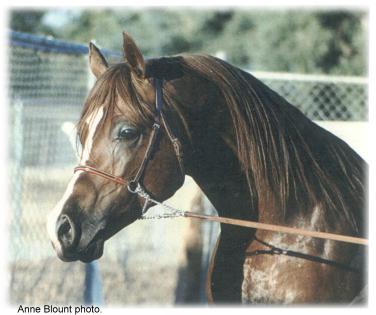 Night Dragon had a beautifully chiseled Arabian head with large, dark eyes. His nostrils were very large and fine, and set high in his muzzle, as is ideal for Arabian horses. His face was one of the most beautiful and typy that I have ever seen. His neck was long and clean, and it came out of his shoulders ideally high. His shoulders were outstanding – ideal in slope, in length, in layback, and in clean definition; his shoulders were as splendid as one would hope to get in a double grandson of Aurab. Night Dragon had excellent withers, a good, strong back, and strong loins with smooth coupling, in the Aurab/Ben Rabba tradition. His hips were long and his hindquarters powerful with correct, square, pelvic structure. This horse had beautiful stifles and hind legs; they were perfection.
Night Dragon's trot was totally magnificent – one of the best I have ever seen, and many people agreed with my opinion. His was absolutely correct and it had outstanding flexion, folding, reach and outstanding length of stride. To watch his trot, it seemed very powerful and bold, with tremendous drive from behind, while at the same time it was almost like an awesome ballet.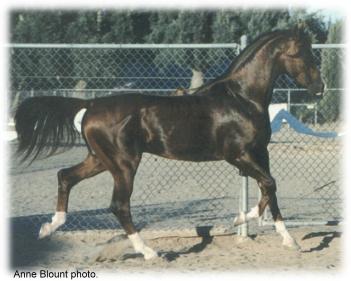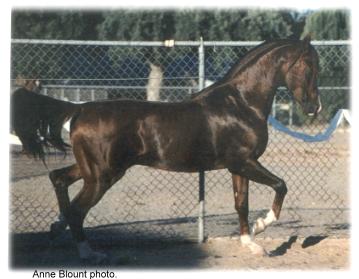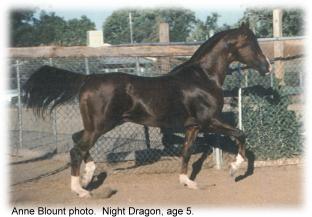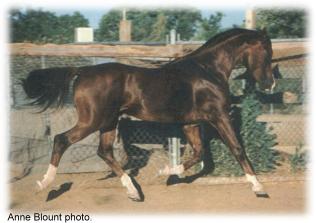 Sometimes, when at liberty and playing, Night Dragon liked to amuse himself by lifting his forelegs at the trot higher than most horses can do. It is interesting too, that several of his get were natural jumpers able to clear fences higher than themselves from a standstill and thus moving about the farms that had them at will. However, Night Dragon, himself, did not seem inclined to jump fences, but it is unusual that several of his get did so.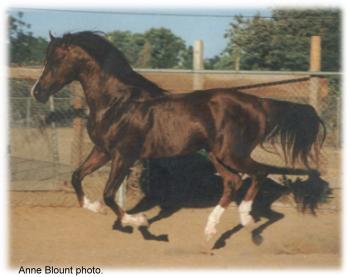 Night Dragon was a bold and fearless horse to ride, even along the road. He was afraid of nothing and evaluated everything he saw calmly and without altering his progress. He never shied. He never got nervous or acted silly. On two occasions of which I know, his coltish antics got him into trouble and his reaction was calm, cool, and thinking extradition of himself. He did not get upset. He solved the problems himself. Once, when he was a green 3-year old colt, his rider, Ed Hubbert, fell off him on an extremely steep pasture hillside and evidently was temporarily knocked unconscious. When Ed came to, Night Dragon – the green 3-year old – was standing over him, gently nudging him, trying to rouse him. That was the kind of loyalty this horse possessed. He never nipped, and I have never seen any other horse who responded so well to praise.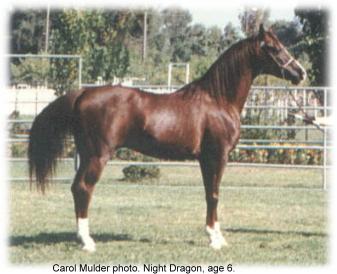 Night Dragon was a truly magnificent and awesome horse of great beauty and function. He was a "horseman's horse," and at the same time a very beautiful and typy Arabian.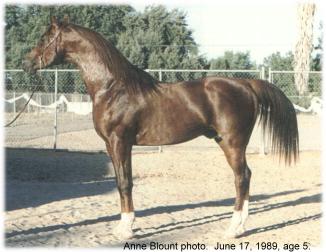 Night Dragon was killed in a tragic accident at a training stable when he was only 9 years old. His death was a tragic loss to the breeding program of Janice Siders and perhaps to the Arabian horse in general because this stallion really was of unusual and very special merit – and was regarded so by many.
With Permission from the Author, Carol W. Mulder. Copyright © 2005, 2008 by Carol W. Mulder.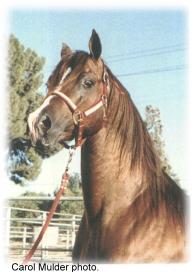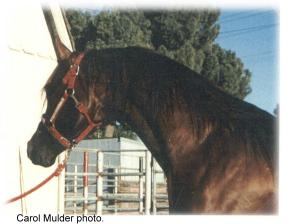 Pedigree for Night Dragon
Sire line: Barq
Family: Rodania
Sire
BEN RABBA
29921
c 1964
K. D. Mathiot
California
AURAB 12488
c 1957
E. E. Hurlbutt
California
AULANI 1801
c 1940
RIFNAS 924
*NASIK 604
*RIFLA 601
FOLLYAT 827
BABYAT 460
FENZILEH 555
RABNA 3622
c 1946
NARZIGH 1745
GHAZI 560
NAFARA 839
RABKHAL 1402
REHAL 504
RABK 795
ROLLICKA 15286
c 1959
K. D. Mathiot
California
SAROLLE 6171
k 1950
RALLAF 2366
*RAFFLES 952
CHRALLAH 728
SARIFAH 2570
*ZARIFE 885
SAWA 1597
COALANI 8419
k 1953
AULANI 1801
RIFNAS 924
FOLLYAT 827
NARLAH 916
NARKHALEB 114
KILLAH 103
Dam
AURZEYA
122236
c 1975
R. A. Oakley
California
AURAB 12488
c 1957
E. E. Hurlbutt
California
AULANI 1801
c 1940
RIFNAS 924
*NASIK 604
*RIFLA 601
FOLLYAT 827
BABYAT 460
FENZILEH 555
RABNA 3622
c 1946
NARZIGH 1745
GHAZI 560
NAFARA 839
RABKHAL 1402
REHAL 504
RABK 795
MARZEYA 30790
c 1964
Cummings Estate
Washington
ZEY 10831
c 1956
WANABI 8502
ARABI KABIR 2379
FARWANA 3424
RIFHALLA 5888
RIFNAS 924
ZUHALLA 2753
MARLAN 16102
c 1959
GABILAN 4405
GHAZIBROA 1742
ANTONIA 1596
MARGARITA 5850
GHAZNAS 1476
LATAFA 2589
Go Back
---

Home

History

Stallions & Colts

Mares & Fillies

For Sale

Reference Horses

Books

Links

Contact Me
---
Janice Siders (925) 275-1955
Diablo Vista Arabians
Website built and maintained by Azria Arabians
---