---

Home

History

Stallions & Colts

Mares & Fillies

For Sale

Reference Horses

Books

Links

Contact Me
---
Outrageously Special 631663
Bay Stallion foaled May 5, 2007
Bred by Janice M Siders, San Ramon, California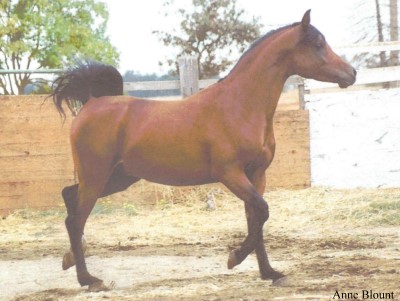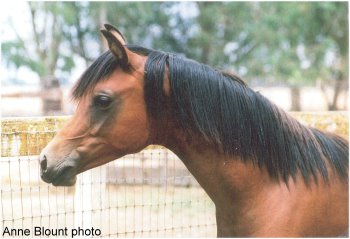 This beautiful bay stallion is the result of crossing the lovely Dream of Liberty daughter, Star of Liberty, back into pedigree components of heavy Skowronek breeding, through several different Skowronek lines. The reason this was done was to try to breed on the particular beauty and extremely desirable qualities of Dream of Liberty (Dreamazon), this stallion's 2nd dam. It appears that the purpose of making the cross has been achieved admirably well.
In looking for the right stallion to use for the desired cross, a visit was made to the stud of Pete McNeil at Alpine, California. Mr. McNeil has been breeding close-bred Skowronek horses for many years and has some good ones. Among them was the chestnut stallion Outrageousss, a horse of absolutely riveting beauty, very good conformation, a gorgeous head, and a high Arabian tail carriage. He caught the breath of the entire party of visitors (there were 4 of us friends together). He was "the one" for the desired cross - the stallion for which I had been searching to cross with my treasured Star of Liberty.
Outrageously Special is all that was desired from the cross of Outrageouss with Star of Liberty. He not only has the beauty of both of his parents and combines all of their individual good qualities that were desired in the cross, and the qualities for which horses of this sort of Skowronek breeding are known, but he also has much of his dam's outstanding trot (which she got from both of her parents). He carries himself well and has a lovely high fountain tail carriage. He not only has a beautiful Arabian head, with lovely big, dark eyes, but he also has the old-fashioned curled Arabian ears which are no longer seen as often in modern Arabians as they were in Arabians of previous eras; his ears are also small, as is ideal for Arabian ears.
This stallion is boldly curious, is self-confident, and at the same time polite, smart, and willing to please. He is sensible and amiable.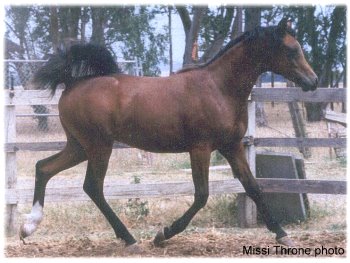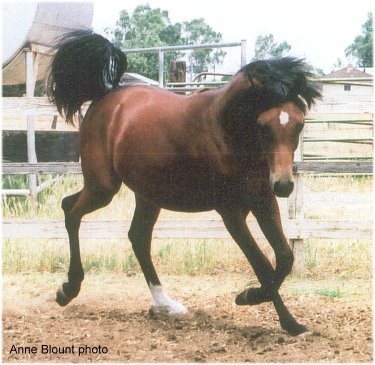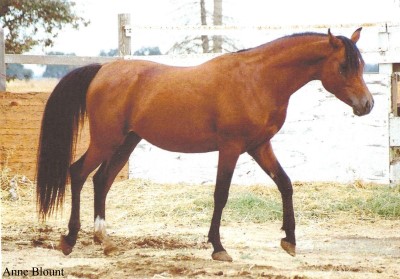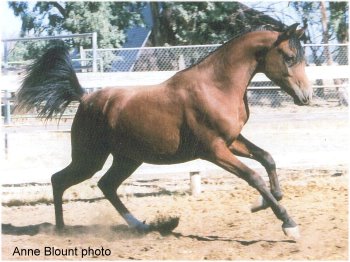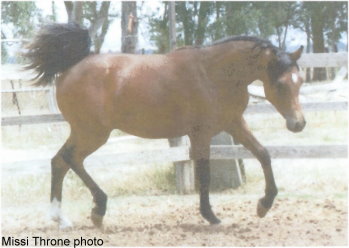 Pedigree for Outrageously Special
Sire line: Heijer
Family: *Reshan 38
Sire
OUTRAGEOUSSS 566328
c 1997
H. P. McNeil
California
DANNI BOY 312602
b 1983
H. P. McNeil
California
GAI DANIZON 116187
b 1974
GAI PARADA 54484
FERZON 7723
AZLETA 18947
FERZONA 16742
FERZON 7723
RAFFWE 10565
ELOQUENT 165984
g 1977
RAFFIUS 34388
SYGYZY 11802
TRITY 10412
MICHELE 100937
THE REAL MCCOY 17362
TRITY 10412
GAI DANICHELE 175421
g 1978
H. P. McNeil
California
GAI DANIZON 116187
b 1974
GAI PARADA 54484
FERZON 7723
AZLETA 18947
FERZONA 16742
FERZON 7723
RAFFWE 10565
RACHELE 101726
g 1973
RAFFERTY 8658
*RAFFLES 952
MASRUFA 4819
RAFFIANNE 37847
SYZYGY 11802
TRITY 10412
Dam
STAR OF LIBERTY
517913
b 1994
J. Siders
California
THE NIGHT STAR 429131
b 1989
J. Siders
California
NIGHT DRAGON 285176
c 1983
BEN RABBA 29921
AURAB 12488
ROLLICKA 15286
AURZEYA 122236
AURAB 12488
MARZEYA 30790
OUARZAZATE 197345
b 1979
SX SALADIN 63310
*SERAFIX 8955
COBAH 9357
BINT DHUSHARA 93342
DHUSHARA 63182
STARLA 25336
DREAM OF LIBERTY 364055
g 1986
J. Siders
California
DREAMAZON 154558
g 1977
BF RAGEYMAZON 109816
FERZON 7723
GAI-GA-RAGEYMA 47151
GAI DREAM 95322
GAY-ROUGE 33543
GAFFI 30076
MESCCA SULTANA 153892
c 1977
SULTAN MAHTAB 25132
YATEZ 8021
RABNA 3622
RED HOLLY LOVE 59638
COMAR FLEYGAZ 24185
RAFFSHEA 31762
Go Back
---

Home

History

Stallions & Colts

Mares & Fillies

For Sale

Reference Horses

Books

Links

Contact Me
---
Janice Siders (925) 275-1955
Copyright © 2008 Diablo Vista Arabians/Janice Siders

Website built and maintained by Azria Arabians
---