---

Home

History

Stallions & Colts

Mares & Fillies

For Sale

Reference Horses

Books

Links

Contact Me
---
Mescca Sultana 153892
Chestnut Mare foaled March 12, 1977
Bred by Thomas Cain, Tehachapi, Calif.

BROODMARE OF EXCELLENCE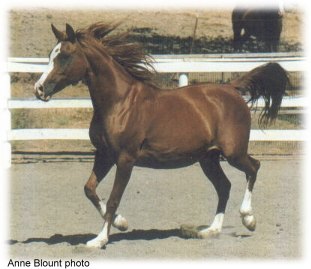 Mescca Sultana founded a successful and interesting legacy. First she was a foundation broodmare for Janice Siders, and later she was owned by Marjorie Van Gilder.
In 1978 Mrs. Siders bought the then yearling filly Mescca Sultana. Carol Mulder had seen her as a weanling at the home of her breeder and thought the outstanding filly, with her exceptionally beautiful head and her superb trot, as well as her good bone, joints, and feet, had particular potential and a certain feel of possible greatness. Carol told Janice about her and finally, after many months of trying, Janice was able to acquire Mescca Sultana.
When Betty Finke, foremost writer about Arabian horses in Europe, visited the United States northwest in 1992 to see Arabian horses, she saw several of the produce of Mescca Sultana. Based solely on the quality and beauty of the mare's produce, for none her stock had yet gone on the track, Betty later wrote and published that Mescca Sultana was one of the best producing Arabian mares she had ever seen anywhere in her travels in Europe, England, and the U.S.
In 1992 Betty based this evaluation of Mescca Sultana on her produce Sparkling Sider, Dream of Liberty, Sun Warrior, and Wind Catcher, as well as on Sparkling Sider's daughter Sparkling Diamond, then just 2. Of Sparkling Diamond, Betty wrote and published that she was the best filly she had seen anywhere (Europe, England, and the U.S.) that year and had Sparkling Diamond been in Europe, Betty thought the filly might have had a chance of being named International Female Champion at halter, despite her youth. However, Sparkling Diamond never went into the show ring; instead she became a race winner. (The outstanding Mackies Emerald, x Mescca Sultana, was not yet foaled during Betty's visit.)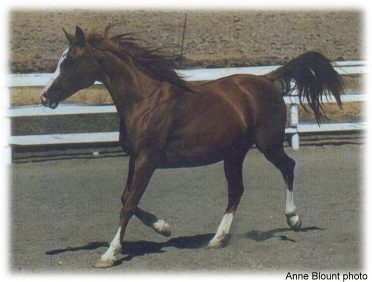 Visitors from Australia in 1998 and again in 2001 said that Mescca Sultana's daughter Dream of Liberty was one of the most beautiful Arabian mares they had ever seen; the 2001 visitor also thought the same of Sparkling Sider. The 1998 visitors wanted to lease Dream of Liberty and take her to Australia where they thought they might be able to show her to Australian National Champion Mare. However, Dream of Liberty did not go to Australia. Nearly all Americans who have seen Dream of Liberty also say she is one of the most beautiful Arabian mares they have ever seen; some feel she may be one of the best living Arabian mares in the breed (in 2005). Not only is she so stunningly gorgeous and of such superb quality, but she also has a brilliant natural trot. She has never been shown; in fact, nothing has ever been done with her except to produce one son and one daughter before developing breeding problems after she aborted twins
All of the race winners in Mescca Sultana's line of descendants are also unusually beautiful and typy Arabians; one of this mare's most important legacies is the beauty and Arabian type she strongly passes on through the generations. She is particularly strong at passing on gorgeous Arabian heads, along with superior athletic ability. Her own superior trot has also been passed on to several of her produce and descendants.
It is a known fact that Arabians who trot well often also run well and are more likely to be generally athletic.
On the basis of the quality, Arabian beauty, and racing success of Mescca Sultana's legacy, Mescca Sultana earned a touch of greatness in her own time.
Mescca Sultana died at the Van Gilder Ranch in Wasco, Oregon, shortly after her 28th birthday in 2005. She still looked strong and considerably younger than her years.
* * * * * *

RACING DYNASTY OF MESCCA SULTANA
Below is the racing dynasty Mescca Sultana seems to have founded (females in upper case, males in lower case):
MESCCA SULTANA
(by Sultan Mahtab, half-brother of Aurab) - foundation broodmare only -produced first for Janice Siders and then for Marjorie Van Gilder.
SPARKLING SIDER
(by Abu Malacar, he by Muhuli) - broodmare only, for Janice Siders).
|
SPARKLING DIAMOND
(by Aur Patriot, he by Aurab) - race winner:
1994-1995, 7 starts (1-3-1-1), earned $4,293.
|
|
Fast Forward Cvr
(by Fast Ptrack, Russian pedigree) - race winner:
2000-2001, 16 starts (1-3-4-8), earned $38,086. 3 of the races were stakes of which he was 2nd in one and 3rd in the other.In 2000 he won $37,139, making him the 12th ranking Arabian racing male (stallions, colts, geldings) in the U.S. that year, ranked by money earned.
|
|
DIAMOND KHEARA
(by Fast Ptrack, Russian pedigree) - not a winner, but placed: 2003, 4 starts (0-0-1-1), earned $245. Racing career cut short by physical problems.
|
Sparkling Sky
(by Aur Patriot, he by Aurab) - race winner: 1996-1999, 19 starts (4-3-2-6), earned $6,067.
|
SPARKLING SPIRIT
(by Ambir Dragon, he by Night Dragon, by Ben Rabba, an Aurab son) - race winner: 1999-2002, 33 starts (6-5-5-14), earned $21,776. 4 of the races were stakes of which she won 1 and was 3rd in the other 3.
MACKIES EMERALD
(by Mackies Image, he by Abu Malacar, by Muhuli) - race winner: 1997-2001, 44 starts (13-5-17-9), earned $61,898. 8 of her races were stakes of which she won 3, was 2nd in 2, and was 3rd in 3
As can be seen above, race winning continues down into the 3rd generation from Mescca Sultana; every individual of her blood which has gone on the track has been a winner (except for Diamond Kheara, which placed, but did not win). Three of the winners are also stakes winners. Produce, grandproduce, and great-grandproduce of Mescca Sultana - the racing legacy of this mare to the present (2005) - have earned a total of $132,365.
SPARKLING SKY
Diablo Vista Arabian Stud is proud to note that Sparkling Sky, on the chart above, in addition to his race record on the track, was also named:
2004 National Champion Lightweight AERC 50 Miler, and
2nd place to the overall AERC Champion 50 Miler; Sparkling Sky came in only one minute behind the overall champion.
With Permission from the Author, Carol W. Mulder. Copyright © 2005 by Carol W. Mulder
Pedigree for Mescca Sultana
Sire line: Kuhailan Kharas
Family: *Reshan 38
Sire
SULTAN MAHTAB
25132
b 1963
W. L. Peay
New Mexico
YATEZ 8021
b 1952
L. W. Dunn
California
*WITEZ II 3933
b 1938
OFIR
KUHAILAN HAIFI
DZIWA
FEDERACJA
BURGAS
KOALICJA
RIWAYAT 2587
b 1943
*RASEYN 597
SKOWRONEK
RAYYA
DIRABBA 1447
ROSSDIN 985
RAAB 627
RABNA 3622
c 1946
O. D. Gibson
California
NARZIGH 1745
c 1939
GHAZI 560
*RODAN 258
GUEMURA 277
NAFARA 839
*NASIK 604
*FARASIN 615
RABKHAL 1402
c 1937
REHAL 504
SIDI 223
*RAMIM 348
RABK 795
GULASTRA 521
RABIYAT 577
Dam
RED HOLLY LOVE
59638
g 1969
M. Barnes III
Georgia
COMAR FLEYGAZ 24185
g 1963
G. Buchanan
Iowa
AZRAFF 5596
g 1949
*RAFFLES 952
SKOWRONEK
*RIFALA 815
*AZJA IV 1543
LANDSKNECHT
ASRA
RAFLEYGA 9519
g 1954
IBN MIRAGE 1763
*MIRAGE 790
*KAREYMA 811
RAFLEYMA 5309
*RAFFLES 952
RAFEYMA 2071
RAFFSHEA 31762
c 1965
Rex Bigelow
Georgia
ZINRAFF 13769
c 1958
MRAFF 7755
*RAFFLES 952
MASYRA 1778
ZINA 8574
IBN KISANN 4534
RIMAHA 4060
DHAREYSA 2675
c 1943
DHAREB 537
LETAN 86
MOLIAH 109
ANEYSA 1139
FARANA 708
ANTARAH 834
Go Back
---

Home

History

Stallions & Colts

Mares & Fillies

For Sale

Reference Horses

Books

Links

Contact Me
---
Janice Siders (925) 275-1955
Diablo Vista Arabians
Website built and maintained by Azria Arabians
---