---

Home

History

Stallions & Colts

Mares & Fillies

For Sale

Reference Horses

Books

Links

Contact Me
---
Rabba Baron 353597
Chestnut Stallion foaled February 22, 1985
Bred by Sharon Y. Pardo, Palo Alto, California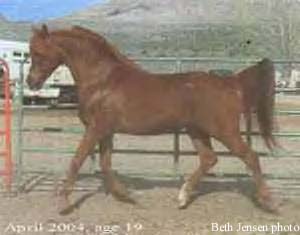 This wonderful and very appealing son of the internationally successful Ben Rabba was bred by Sharon Y. Pardo.
For almost 30 years Sharon had a Crabbet/American breeding program of high quality horses which were little known because she never advertised or showed and kept most of the horses she bred. It was only after poor health caused the dispersal of her horses that a few others began to be aware of them.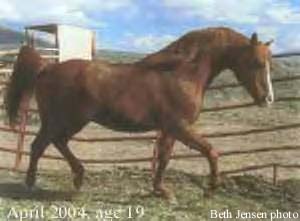 Sharonís breeding program began with the very good and exquisitely beautiful Kellogg-bred filly Gazlowa, a daughter of Farlowa and Gazya, who also produced Zadir. After almost 30 years of breeding, all but one or two of Sharonís horses traced to Gazlowa at least once, and sometimes more. For most of her breeding career, Sharon bred her mares to outstanding outside stallions.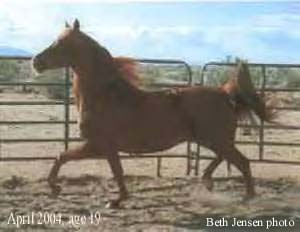 Rabba Baronís dam, Bay-Karel, was a daughter of Gazlowa. Bay-Karel was sired by Sheila Varianís Bay-Abi, a U. S. National Champion Stallion at halter who later proved his ability to sire not only more halter champions, but also both western and English winners and champions. Some thought Bay-Karel was one of Bay-Abiís best daughters; she was particularly appreciated for her absolutely splendid hindquarters.
Rabba Baronís pedigree reads like a whoís who in the world of Crabbet/American Arabian horses; the pedigree is a roster of many of the very best and most outstanding Arabians of their times.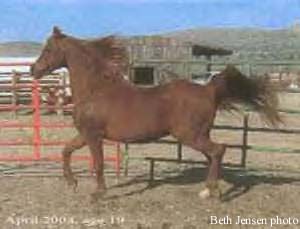 Rabba Baron was a well conformed horse of good balance. He had excellent legs. He had lots of Arabian type, including unusually large eyes which he often sired, a beautiful Arabian tail carriage, and plenty of Arabian style. He was a fine horse to ride and he loved to go out, moving rapidly and with ease along the trail, sometimes doing his natural amble which is an almost tireless ground covering gait that is very easy on both horse and rider. In his younger days Rabba Baron was well trained to do ranch stock work and actually did work a little with cattle; he loved this too. He was a very easy horse to live with; there were no management problems with Rabba Baron. He got along well not only with people and children, but also with other horses. His disposition was simply all-around ideal.
Rabba Baron was owned during his last years by Angela Lewis, Saddleback Arabians, Janesville, California, where he stood at stud until his death on March 2, 2007, at age 22. Angela has a fine replacement son of Rabba Baronís to carry on for him; the son is 2006 bay Sb Criminal Justice x Janice Sidersís Star of Royalty (The Night Star x Dynasty Royalette).
With Permission from the Author, Carol W. Mulder. Copyright © 2005, 2008 by Carol W. Mulder.
Pedigree for Rabba Baron
Sire line: Barq
Family: Rodania
Sire
BEN RABBA
29921
c 1964
K. D. Mathiot
California
AURAB 12488
c 1957
E. E. Hurlbutt
California
AULANI 1801
c 1940
RIFNAS 924
*NASIK 604
*RIFLA 601
FOLLYAT 827
BABYAT 460
FENZILEH 555
RABNA 3622
c 1946
NARZIGH 1745
GHAZI 560
NAFARA 839
RABKHAL 1402
REHAL 504
RABK 795
ROLLICKA 15286
c 1959
K. D. Mathiot
California
SAROLLE 6171
k 1950
RALLAF 2366
*RAFFLES 952
CHRALLAH 728
SARIFAH 2570
*ZARIFE 885
SAWA 1597
COALANI 8419
k 1953
AULANI 1801
RIFNAS 924
FOLLYAT 827
NARLAH 916
NARKHALEB 114
KILLAH 103
Dam
BAY-KAREL
17228
c 1973
Mary McBay
California
BAY-ABI 12335
b 1957
Loyd F. Silva
Oregon
ERRABI 5473
c 1949
ARABI KABIR 2379
IMAGE 1008
*KAREYMA 811
FERDIRAH 923
*FERDIN 613
SANKIRAH 149
ANGYL 4824
b 1948
*RASEYN 597
SKOWRONEK
RAYYA
*WIERNA 3935
OFIR
KAMEA
GAZLOWA 24127
c 1963
Kellogg
California
FARLOWA 8545
b 1953
ABU FARWA 1960
RABIYAS 1236
*RISSLETTA 1201
FARLOUMA 2345
FARANA 708
*MALOUMA 738
GAZYA 2588
b 1943
SIKIN 964
*NASIK 604
*FARASIN 615
RABIYAT 577
REHAL 504
*ROKHSA 351
Go Back
---

Home

History

Stallions & Colts

Mares & Fillies

For Sale

Reference Horses

Books

Links

Contact Me
---
Janice Siders (925) 275-1955
Diablo Vista Arabians
Website built and maintained by Azria Arabians
---