---

Home

History

Stallions & Colts

Mares & Fillies

For Sale

Reference Horses

Books

Links

Contact Me
---
Star of Royalty 518009
Bay Mare foaled June 12, 1994
Bred by Janice M Siders, Diablo, California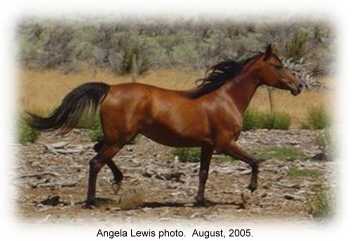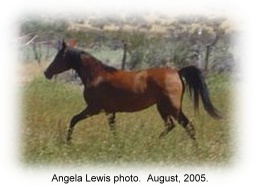 Star of Royalty is a golden bay with an iridescent coat quality that we used to see more often in Arabians than we see today. She is a very gentle, quiet, and amiable mare with the outstanding trot of her sire, The Night Star. Star of Royalty has a pretty head, a fine throat and a long, nicely shaped neck. She is a very smooth mare.
Her dam, who was 22 years old when Star of Royalty was foaled, was the Royal Binis mare Dynasty Royalette that Janice Siders tried to buy for some years before finally succeeding. Not only was Dynasty Royalette of outstanding individual merit, but she also had a sterling pedigree. Her sire, Royal Binis, was a famous and successful show horse in his day under English saddleseat tack. His sire, Binis, a horse highly regarded for his type and quality, was a double grandson of the great Gulastra. On his damís side Royal Binis was a grandson of the outstanding, but relatively unkown, Muallim, one of the best sons of the Kellogg sire, Alyf, who was known for his brilliant natural action at the trot. Hamnan, dam of Royal Binis, was a granddaughter of Katar, a beautiful Gulastra son. Thus Royal Binis was linebred Gulastra. Miss Farwa, dam of Dynasty Royalette, was linebred to the great Abu Farwa.
Star of Royalty has an outstanding Crabbet/American pedigree. She is granddaughter of Night Dragon and Royal Binis. She is a great-granddaughter of Ben Rabba, Sx Saladin, Binis, and Azrek-Skowronek. The latter was bred by Carleton Cummings of Moscow, Idaho, who for some years had a widely reknowned breeding program based on old Kellogg, Reese, and other Crabbet/American stock.
Since 2012, Star of Royalty has been owned by Melissa Throne, Citrus Heights, Californoa. Mrs. Siders has retained her grandson, The Most Wanted.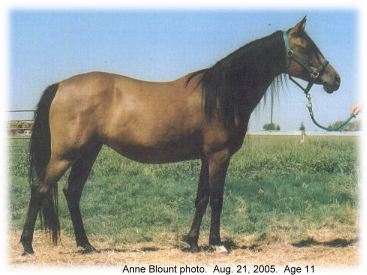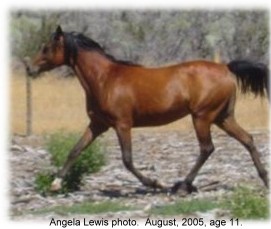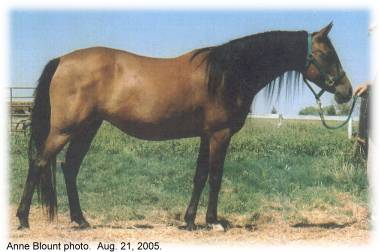 Pedigree for Star of Royalty
Sire line: Barq
Family: Rodania
Sire
THE NIGHT STAR
429131
b 1989
NIGHT DRAGON 285176
c 1983
J. Siders
BEN RABBA 29921
c 1964
AURAB 12488
AULANI 1801
RABNA 3622
ROLLICKA 15286
SAROLLE 6171
COALANI 8419
AURZEYA 122236
c 1975
AURAB 12488
AULANI 1801
RABNA 3622
MARZEYA 30790
ZEY 10821
MARLAN 16102
OUARZAZATE 197345
b 1979
SX SALADIN 63310
b 1970
*SERAFIX 8955
RAKTHA
*SERAFINA 17129
COBAH 9357
POMONA AHMEN 3032
FARADINA 2337
BINT DHUSHARA 93342
b 1973
DHUSHARA 63182
FERDARE 43868
USHKABAHADA 19458
STARLA 25336
SEAHORSE STORM 17742
LOLA MADJ 11607
Dam
DYNASTY ROYALETTE
82463
c 1972

ROYAL BINIS 20101
c 1961

BINIS 3050
c 1944
ISLAM 1709
GULASTRA 521
NAFUD 820
BINNI 1815
GULASTRA 521
HABIBA 1118
HAMNAN 7278
b 1951
MUALLIM 2591
ALYF 1465
*FERDISIA 595
ATA AIA 2630
KATAR 724
MIRZAIA 1010
MISS FARWA 32471
c 1965
AZREK-SKOWRONEK 8987
c 1954
ANTEZEYN SKOWRONEK 5321
ABU FARWA 1960
SHARIFA 2951
WAFA EL SHAMMAR 6406
CAVALIER 3671
SHAMA 4110
TARI SABA 12108
c 1957
ABU FARWA 1960
RABIYAS 1236
*RISSLETTA 1201
HUMR-RUS 8091
ALERT 4301
HAZZADINA 1048
Go Back
---

Home

History

Stallions & Colts

Mares & Fillies

For Sale

Reference Horses

Books

Links

Contact Me
---
Janice Siders (925) 275-1955
Diablo Vista Arabians
Website built and maintained by Azria Arabians
---