---

Home

History

Stallions & Colts

Mares & Fillies

For Sale

Reference Horses

Books

Links

Contact Me
---
The Night Star 429131
Bay Stallion foaled March 15, 1989
Bred by Virginia L. Spicher, Los Gatos, California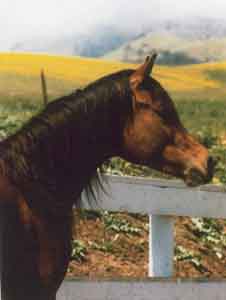 In 1988 Janice Siders leased the outstanding Sx Saladin daughter Ouarzazate from her friend Virginia L. Spicher. Janice wanted this particular mare to breed to her magnificent stallion, Night Dragon. The Night Star was the result.
From the start The Night Star was promising. He grew into a stallion of 15-0 3/4 hands. With a long and nicely shaped neck, well defined and nicely sloped shoulders, strong loins, smooth coupling, and good hindquarters, and with a nice head and appealing Arabian type, The Night Star was an attractive Arabian stallion.
The Night Starís trot was one of his best and most significant features. He inherited his sireís glorious trot in full measure. It was big, bold, and powerful, with outstanding lift of knees and hocks, proper flexing and folding, superior use of shoulders, and huge reach with great stride. It was totally magnificent and totally awesome. The beauty and power of the same trots of father and son were absolutely unforgettable. Many people who saw Night Dragon and The Night Star trot considered that their trots were definitely among the very best in the Aurab line.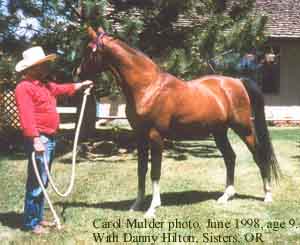 Another treasured feature of The Night Star was his excellent, amenable disposition. As he grew from a baby to an adolescent, then into a stallion, he never nipped (nor did his sire, Night Dragon). For such things as grooming in his stall or paddock, The Night Star did not need to be haltered; he simply stood like a gentleman, giving his feet to be cleaned, allowing his face to be sponged, his fetlocks to be trimmed, etc. He quietly enjoyed the attention and stood like a rock. He was friendly with a gentle dignity. As a green-broke mature horse, he was quiet to ride along the trail.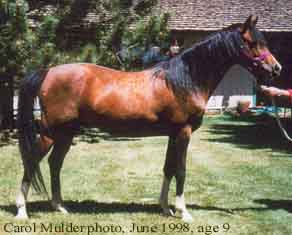 The Night Starís pedigree shows an interesting combination of Crabbet/American bloodlines with considerable old (1925-1963) Kellogg influence. His two grandsires were Ben Rabba and Sx Saladin, and three of his four great-grandsire pedigree positions were occupied by Aurab twice and *Serafix once., with the fourth spot filled by Dhushara.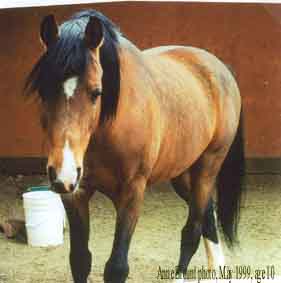 The Night Starís 2nd dam was Bint Dhushara, a very well bred mare whose pedigree is a roster of the well known and greats of yesteryear - horses such as Ferseyn, Ralet, *Raseyn, Jadaan, Fadheilan, Bint Sahara, Abu Baha, Abu Farwa, Ferras, *Raffles, Tut Ankh Amen, Sureyn, Bonita, Faryn, and Alyf, to name just some of them.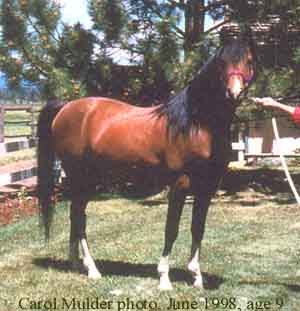 Many considered that Sx Saladin to have been one of the best and most beautiful sons of the great Crabbet-bred *Serafix. Sx Saladinís dam was the great broodmare Cobah, a daughter of Pomona Ahmen and granddaughter of the great Farana.
With three The Night Star daughters destined for her broodmare band (Star of Liberty, Star of Royalty, and Jons Stardust) and another mare in foal to him (the foal turned out to be the gorgeous Sunrise Splendor, a stallion Janice owns jointly with Michelle Lindley of Carson City, Nevada), Janice sold The Night Star to Minnesota in 2000. His new owner gelded him and uses him as a riding horse.
With Permission from the Author,
Carol W. Mulder.
Copyright © 2006 by Carol W. Mulder.
Pedigree for The Night Star
Sire line: Barq
Family: Rodania
Sire
NIGHT DRAGON
285176
c 1983
J. Siders
California
BEN RABBA 29921
c 1964
K. D. Mathiot
California
AURAB 12488
c 1957
AULANI 1801
RIFNAS 924
FOLLYAT 827
RABNA 3622
NARZIGH 1745
RABKHAL 1402
ROLLICKA 15286
c 1959
SAROLLE 6171
RALLAF 2366
SARIFAH 2570
COALANI 8419
AULANI 1801
NARLAH 916
AURZEYA 122236
c 1975
R. Oakley
California
AURAB 12488
c 1957
AULANI 1801
RIFNAS 924
FOLLYAT 827
RABNA 3622
NARZIGH 1745
RABKHAL 1402
MARZEYA 30790
c 1964
ZEY 10821
WANABI 8502
RIFHALLA 5888
MARLAN 16102
GABILAN 4405
MARGARITA 5850
Dam
OUARZAZATE
197345
b 1979
S. L. Stone
Oregon
SX SALADIN 63310
b 1970
J. C. Bennett
Washington
*SERAFIX 8955
c 1949
RAKTHA
NASEEM
RAZINA
*SERAFINA 17129
INDIAN GOLD
SHARFINA
COBAH 9357
b 1954
POMONA AHMEN 3032
*RASEYN 597
*NAKKLA 1215
FARADINA 2337
FARANA 708
HAZZADINA 1048
BINT DHUSHARA 93342
b 1973
S. I. Turple
Oregon
DHUSHARA 63182
b 1970
FERDARE 43868
FERBEYN 12780
BINT FADARA 6767
USHKABAHADA 19458
BAHADE 11120
USHKADARA 8525
STARLA 25336
g 1963
SEAHORSE STORM 17742
RIFRAFF 4350
SURITA 8068
LOLA MADJ 11607
FARYN 3806
MALIKEH MAJD 6383
Go Back
---

Home

History

Stallions & Colts

Mares & Fillies

For Sale

Reference Horses

Books

Links

Contact Me
---
Janice Siders (925) 275-1955
Diablo Vista Arabians
Website built and maintained by Azria Arabians
---