Wartime Romance 592911
Chestnut Mare foaled May 25, 1996
Bred by Janice M Siders, Diablo, California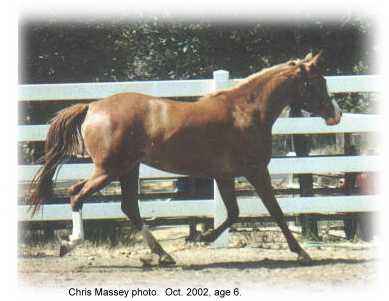 Wartime Romance has been owned all her life by Tonda Brandon of southern California.
Wartime Romance is the only foal ever gotten by her sire, Sun Warrior, which was bred by me and sold to Tonda Brandon. He is a beautiful, typy, and very correct horse with excellent legs, including good bone and joints, and an outstanding trot. He is also the product of the only time Mescca Sultana was bred to Night Dragon.
Wartime Romance's dam is the chestnut roan mare Sun and Snow, bred by and owned by me for many years, but now owned by Angela Lewis of Susanville, California, to whom I sold her because I have two of her daughters (Wartime Romance and Starspangled Glory).
Wartime romance is not a roan, but she has some Mesaoud small white spots in her coat. She is a handsome mare.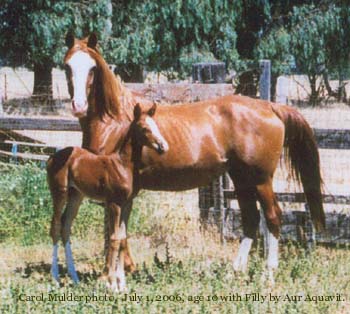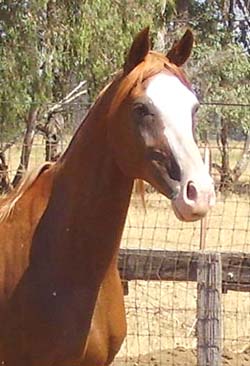 Many years ago when I visited the Cal Poly Kellogg horses I saw the superb old stallion Zari (Courier x Maazza). I wanted to breed to him, but he was no longer available for stud so I began to try to find a daughter of suitable quality. I found only two for sale. Basketta, 3rd dam of Wartime Romance, was in Oregon so I went to see her. She was of the type and quality I wanted, and I liked the fact that on her dam's side she was a granddaughter of the beautiful and high quality Crabbet import *Silfretta. I bought Basketta, but alas! She died before giving me a foal. The man from whom I had bought her felt sorry that I had gotten nothing from the mare, although it certainly was not his fault. He very kindly offered to lease me, free of charge, Basketta's chestnut roan daughter, Rytham Mariah, who was double Zari and also had some nice Egyptian blood. I bred Rhytham Mariah to the brilliant trotting and beautifully bred chestnut roan stallion Schar, and got Sun and Snow.
Filly by Aur Aquavit foaled June 16, 2006.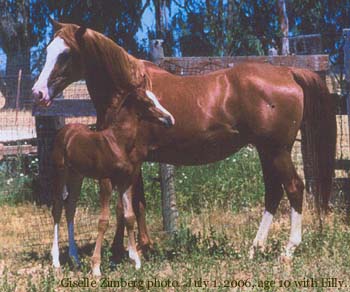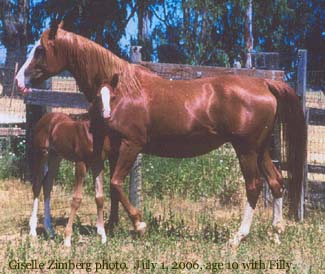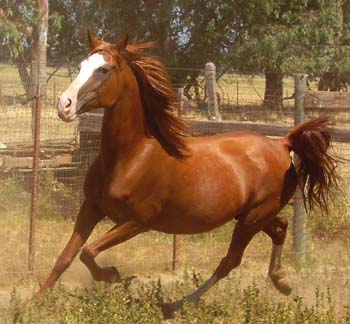 Pedigree for Wartime Romance
Sire line: Barq
Family: Dajania
Sire
SUN WARRIOR
394325
c 1987
J. Siders
NIGHT DRAGON 285176
c 1983
J. Siders
BEN RABBA 29921
c 1964
AURAB 12488
AULANI 1801
RABNA 3622
ROLLICKA 15286
SAROLLE 6171
COALANI 8419
AURZEYA 122236
c 1975
AURAB 12488
AULANI 1801
RABNA 3622
MARZEYA 30790
ZEY 10821
MARLAN 16102
MESCCA SULTANA 153892
c 1977
SULTAN MAHTAB 25132
b 1963
YATEZ 8021
*WITEZ II 3933
RIWAYAT 2587
RABNA 3622
NARZIGH 1745
RABKHAL 1402
RED HOLLY LOVE 59638
g 1969
COMAR FLEYGAZ 24185
AZRAFF 5596
RAFLEYGA 9519
RAFFSHEA 31762
ZINRAFF 13769
DHAREYSA 2675
Dam
SUN AND SNOW
444851
c r 1989

SCHAR 43808
c r 1967

RAMLY 4388
g 1948
RABIYAS 1236
RAHAS 651
RABIYAT 577
FERDANA 840
*FERDIN 613
*ROSSANA 598
SCHARIFA 4700
c 1948
ABU FARWA 1960
RABIYAS 1236
*RISSLETTA 1201
SCHILASTRA 1272
GULASTRA 521
SCHILAN 706
RYTHAM MARIAH 238918
c r 1981

DESERT RYTHAM 95567
g 1973
SHAIKH AL BADI 54456
*MORAFIC 32261
*BINT MAISA EL SAGHIRA 23220
ZARETTA 24082
ZARI 13080
*SILFRETTA 12831
BASKETTA 80155
c 1972
ZARI 13080
COURIER 4265
MAAZZA 2594
EASTER BASKET 43040
*BASK 25460
*SILFRETTA 12831

---
Diablo Vista Arabians
(925) 275-1955
---