---

Home

History

Stallions & Colts

Mares & Fillies

For Sale

Reference Horses

Books

Links

Contact Me
---
Sunrise Splendor 589822
Chestnut Stallion foaled June 13, 2001
Bred by Janice M Siders, San Ramon, California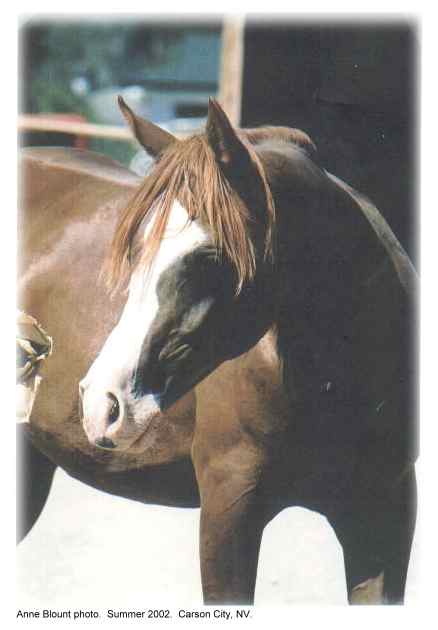 The beautiful young stallion Sunrise Splendor is co-owned with Michelle Lindley, Carson City, Nevada. Mrs. Lindley has full management of him, including standing him at stud; he is available by AI. Mrs. Lindley may be contacted by e-mail at FARANCH@aol.com or by telephone at (775) 887-7417.
Sunrise Splendor is by the superior trotting, former Diablo Vista stallion, The Night Star, a son of our magnificent Night Dragon and Ouarzazate, she one of the best of the Sx Saladin daughters. Many consider Sx Saladin to have been one of the best of the *Serafix sons. I leased Ouarzazate from Virginia Spicher specifically to breed to Night Dragon. Sunrise Splendorís dam is the very beautiful Sparkling Sider, an Abu Malacar daughter. Abu Malacarís name is appreciated in both endurance and racing circles. He was a son of Muhuli, without a doubt one of the best and most successful sons of the great Abu Farwa; Muhuli was the chief sire at Van Gilder Arabians in Oregon where he established an excellent reputation for himself. Sparkling Siderís dam was the great mare Mescca Sultana; a chart of the successful racing legacy of Mescca Sultana and Sparkling Sider may be found in the reference section under Mescca Sultana.
Sunrise Splendor is not only beautiful in the same special way that his dam is beautiful, strongly showing the stamp of her Abu Farwa and Mescca Sultana influence, but he also moves well and has a good disposition. He is easy to be around.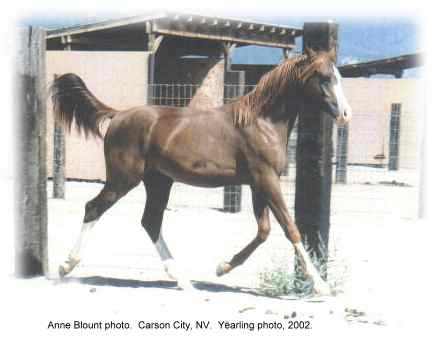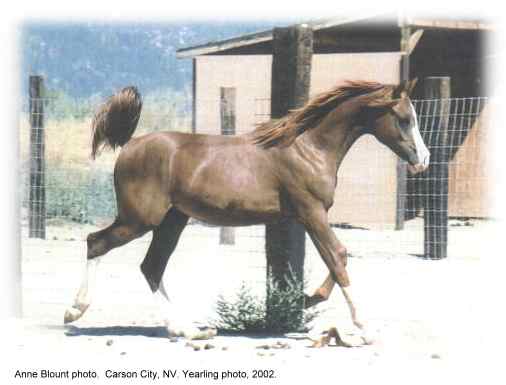 Pedigree for Sunrise Splendor
Sire line: Barq
Family: *Reshan 38
Sire
THE NIGHT STAR
429131
b 1989
NIGHT DRAGON 285176
c 1983
J. Siders
BEN RABBA 29921
c 1964
AURAB 12488
AULANI 1801
RABNA 3622
ROLLICKA 15286
SAROLLE 6171
COALANI 8419
AURZEYA 122236
c 1975
AURAB 12488
AULANI 1801
RABNA 3622
MARZEYA 30790
ZEY 10821
MARLAN 16102
OUARZAZATE 197345
b 1979
SX SALADIN 63310
b 1970
*SERAFIX 8955
RAKTHA
*SERAFINA 17129
COBAH 9357
POMONA AHMEN 3032
FARADINA 2337
BINT DHUSHARA 93342
b 1973
DHUSHARA 63182
FERDARE 433868
USHKABAHADA 19458
STARLA 25336
SEAHORSE STORM 17742
LOLA MADJ 11607
Dam
SPARKLING SIDER
325526
c 1985
J. Siders
ABU MALACAR 77670
c 1971

MUHULI 11717
c 1957
ABU FARWA 1960
RABIYAS 1236
*RISSLETTA 1201
FOLLYANNA 5193
TERHANI 1640
FOLLYAT 827
BINT GHAMIL 9528
c 1954
*GHAMIL 4217
desert bred
desert bred
ZULEIKA 1998
NUSI 652
KANN 1319
MESCCA SULTANA 153892
c 1977

SULTAN MAHTAB 25132
b 1963
YATEZ 8021
*WITEZ II 3933
RIWAYAT 2587
RABNA 3622
NARZIGH 1745
RABKHAL 1402
RED HOLLY LOVE 59638
g 1969
COMAR FLEYGAZ 24185
AZRAFF 5596
RAFLEYGA 9519
RAFFSHEA 31762
ZINRAFF 13769
DHAREYSA 2675
Go Back
---

Home

History

Stallions & Colts

Mares & Fillies

For Sale

Reference Horses

Books

Links

Contact Me
---
Janice Siders (925) 275-1955
Copyright © 2008 Diablo Vista Arabians/Janice Siders

Website built and maintained by Azria Arabians
---