---

Home

History

Stallions & Colts

Mares & Fillies

For Sale

Reference Horses

Books

Links

Contact Me
---
Sudden Romance 631006
Chestnut Mare foaled June 16, 2006
Bred by Tonda Brandon, Fylmar, California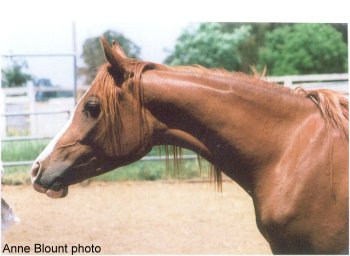 This clean, sharp, finely cut, and attractive mare, with her very good trot (inherited from both parents), is the first foal of both of her parents.
Sudden Romance is a rewarding representative of her pedigree, which displays the kind of Aurab line breeding I like to do. She has 5 crosses to Aurab, via his sons Aur Pride (1 x) and Ben Rabba (2 x), and his daughter Aurzeya (2 x). She is a double great-granddaughter of my superb (deceased) stallion Night Dragon, who was one of only three double grandsons of Aurab (the others being the fine stallion Ohadi Ben Rabba, who is also a successful sire, and Ohadi Rabbaniq, never used for breeding); some people consider that Night Dragon may have been one of the 3 best sons of Ben Rabba. Also found in Sudden Romance's pedigree are stallions such as Nataf (by the great Farana), Alyf, Royal Binis, Schar, the great Abu Farwa, and the very credible broodmare Mescca Sultana (who founded a small racing dynasty).
Sudden Romance is a friendly, curious mare with much of her sire's quiet good sense. She likes people - again like her sire. While much of the time she appears low-key and is not noticed as much as some of my other mares, she can also look spectacular.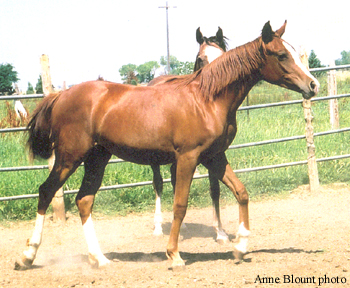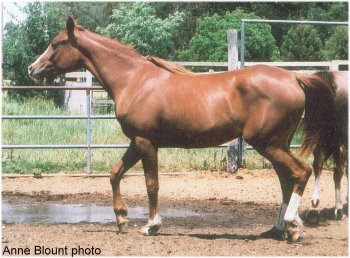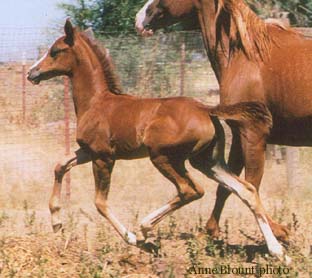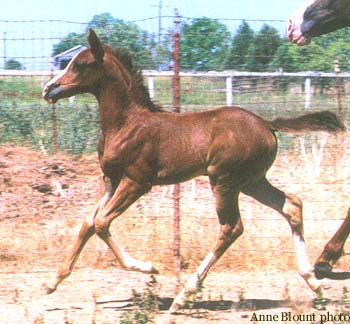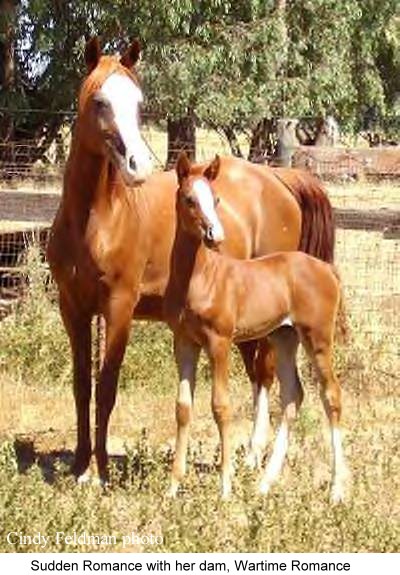 Pedigree for Sudden Romance
Sire line: Barq
Family: Dajania
Sire
AUR AQUAVIT
580994
c 1998
E. H. Rily
North Dakota
AUR PRIDE 88328
b 1972
J. Nelson
California
AURAB 12488
c 1957
AULANI 1801
RIFNAS 924
FOLLYAT 827
RABNA 3622
NARZIGH 1745
RABKHAL 1402
ALYNA 21497
g 1962
NATAF 4835
FARANA 708
*INCORONATA 1200
ALEBA 4276
ALYF 1465
BAZIKH 618
ROYAL NIGHT 445713
c 1989
J. Siders
California
NIGHT DRAGON 285176
c 1983
BEN RABBA 29921
AURAB 12488
ROLLICKA 15286
AURZEYA 122236
AURAB 12488
MARZEYA 30790
DYNASTY ROYALETTE 82463
c 1972
ROYAL BINIS 20101
BINIS 3050
HAMNAN 7278
MISS FARWA 32471
AZREK-SKOWRONEK 8987
TARI SABA 12108
Dam
WARTIME ROMANCE
592911
c 1996
J. Siders
California
SUN WARRIOR 394325
c 1987
J. Siders
California
NIGHT DRAGON 285176
c 1983
BEN RABBA 29921
AURAB 12488
ROLLICKA 15286
AURZEYA 122236
AURAB 12488
MARZEYA 30790
MESCCA SULTANA 153892
c 1977
SULTAN MAHTAB 25132
YATEZ 8021
RABNA 3622
RED HOLLY LOVE 59638
COMAR FLEYGAZ 24185
RAFFSHEA 31762
SUN AND SNOW 444851
c r 1989
L. Gourley
Oregon
SCHAR 43808
c r 1967
RAMLY 4388
RABIYAS 1236
FERDANA 840
SCHARIFA 4700
ABU FARWA 1960
SCHILASTRA 1271
RYTHAM MARIAH 238918
c r 1981
DESERT RYTHAM 95567
SHAIKH AL BADI 54456
ZARETTA 24082
BASKETTA 80155
ZARI 13080
EASTER BASKET 43040
Go Back
---

Home

History

Stallions & Colts

Mares & Fillies

For Sale

Reference Horses

Books

Links

Contact Me
---
Janice Siders (925) 275-1955
Diablo Vista Arabians
Website built and maintained by Azria Arabians
---