---

Home

History

Stallions & Colts

Mares & Fillies

For Sale

Reference Horses

Books

Links

Contact Me
---
Star Of Liberty 517913
Bay Mare foaled June 12, 1994
Bred by Janice M Siders, Diablo, California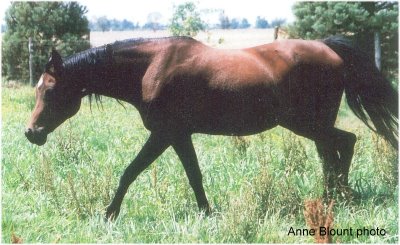 Star of Liberty was the only daughter of the exquisite Dream of Liberty, a gray mare often proclaimed as one of the very best Dreamazon daughters.
A dark bay, Star of Liberty had much of her damís very beautiful head and something of the same overall look, but she also was herself with her own look. She had a superior natural trot, inherited from both of her parents.
By pedigree, Star of Liberty was a granddaughter of both Night Dragon (by Ben Rabba and a double grandson of Aurab) and Dreamazon, and a great-granddaughter of Ben Rabba (by Aurab), Sx Saladin (by *Serafix), Bf Ragemazon, and Sultan Mahtab (who was maternal half-brother to Aurab). It was also much to Star of Libertyís benefit to have had as her second-dam the very successful and beautiful mare Mescca Sultana.
Star of Liberty died at age 18 in July of 2012.
She left behind at Diablo Vista Arabians two gorgeous, classic, and very high quality produce: Her 2004 bay daughter, Song of Liberty (by Ray Dor Echo), and her 2007 bay son, Outrageously Special (by Outrageousss).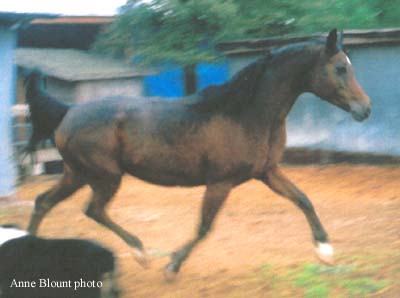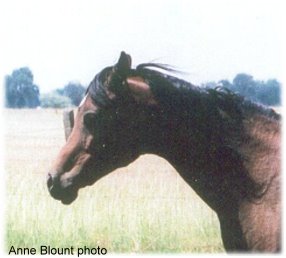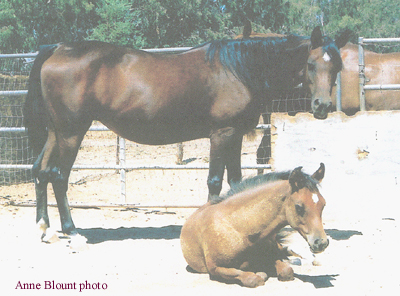 Pedigree for Star Of Liberty
Sire line: Barq
Family: *Reshan 38
Sire
THE NIGHT STAR
429131
b 1989
V. Spicher
California
NIGHT DRAGON 285176
c 1983
J. Siders
BEN RABBA 29921
c 1964
AURAB 12488
AULANI 1801
RABNA 3622
ROLLICKA 15286
SAROLLE 6171
COALANI 8419
AURZEYA 122236
c 1975
AURAB 12488
AULANI 1801
RABNA 3622
MARZEYA 30790
ZEY 10821
MARLAN 16102
OUARZAZATE 197345
b 1979
SX SALADIN 63310
b 1970
*SERAFIX 8955
RAKTHA
*SERAFINA 17129
COBAH 9357
POMONA AHMEN 3032
FARADINA 2337
BINT DHUSHARA 93342
b 1973
DHUSHARA 63182
FERDARE 43868
USHKABAHADA 19458
STARLA 25336
SEAHORSE STORM 17742
LOLA MADJ 11607
Dam
DREAM OF LIBERTY
364055
g 1986
J. Siders
DREAMAZON 154558
g 1977

BF RAGEYMAZON 109816
g 1974
FERZON 7723
FERNEYN 2865
FERSARA 4104
GAI-GA-RAGEYMA 47151
*NABORR 25472
GA-RAGEYMA 13717
GAI DREAM 95322
g 1973
GAY ROUGE 33543
AZRAFF 5596
GAY-ROSE 11891
GAFFI 30076
RAFFI 3781
GALATINA 9873
MESCCA SULTANA 153892
c 1977
SULTAN MAHTAB 25132
b 1963
YATEZ 8021
*WITEZ II 3933
RIWAYAT 2587
RABNA 3622
NARZIGH 1745
RABKHAL 1402
RED HOLLY LOVE 59638
g 1969
COMAR FLEYGAZ 24185
AZRAFF 5596
RAFLEYGA 9519
RAFFSHEA 31762
ZINRAFF 13769
DHAREYSA 2675
---
Go Back

Home

History

Stallions & Colts

Mares & Fillies

For Sale

Reference Horses

Books

Links

Contact Me
---
Janice Siders (925) 275-1955
Diablo Vista Arabians
Website built and maintained by Azria Arabians
---