---

Home

History

Stallions & Colts

Mares & Fillies

For Sale

Reference Horses

Books

Links

Contact Me
---
Sb Criminal Justice 628919
Bay Stallion foaled July 25, 2006
Bred by Janice M. Siders, San Ramon, California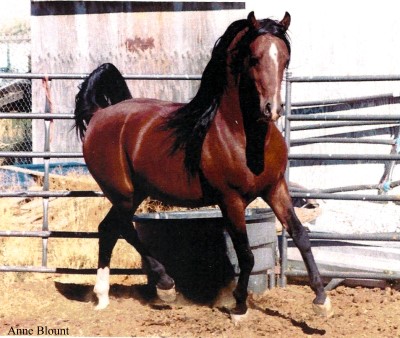 This arresting young stallion was foaled in the ownership of Angela Lewis, Susanville, California, who had his dam on lease from Janice Siders for breeding to Angela's stallion Rabba Baron (see him in this reference section). "CJ," as Angela calls him, is still (in 2011) owned by Mrs. Lewis. His name is due to the fact that both Mrs. Lewis and her husband, Ron, are connected with career law enforcement.
Sb Criminal Justice is beautiful, typy, very stylish, and has a stunningly brilliant natural, inherited trot. He has a beautiful Arabian head and face, with nice eyes and the fine, small ears Arabians are supposed to have. He has a noteworthy Arabian tail carriage. He carries himself extremely well. That is all combined with pleasing and desirable conformation.
In addition, CJ has an incredibly good temperament. He is notably easy to handle, even for breeding, and gets along well with other horses. He often exercised at home by playing, in a kindly manner, with his own yearling (in 2010) son, and sometimes he is turned out with other horses as well, so he can enjoy free exercise and interaction with his pals; he is just naturally amiable, agreeable, and polite, heeding and respecting what other horses say to him; he is not pushy or aggressive, and the other horses like him.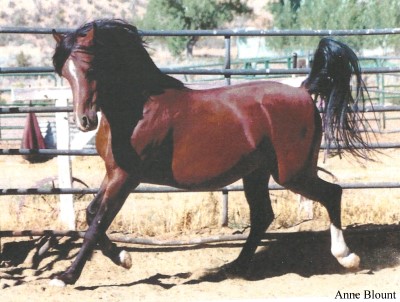 CJ's pedigree shows that he is linebred to Ben Rabba (see him in this reference section); CJ is the product of a Ben Rabba son going to a Ben Rabba topline great-granddaughter. This means that CJ is also linebred to Aurab (sire of Ben Rabba); in total CJ has 3 lines to Aurab. Also in his pedigree are such notables as Bay-Abi, an early National Champion Stallion who was a foundation of the Sheila Varian breeding program; Farlowa (a fine Abu Farwa son at the old Kellogg Ranch); the awesome mare Gazya (own daughter of the great Rabiyat and also dam of Zadir). CJ's dam, Star of Royalty, is also featured on this web site, under listing of "Mares and Fillies," but it is also mentioned here that she is a daughter of brilliant moving The Night Star (see reference section), who was by the brilliant moving Night Dragon (see reference section) and grandson of Sx Saladin, which many consider to have been one of the best sons of *Serafix. Star of Royalty's dam was by Royal Binis, a three-gaited show horse of yesteryear who had a large following and was appreciated for his trot. CJ's 4th dam was sired by Abu Farwa, so his pedigree shows some distant linebreeding to that great sire, too, who was also known for his trot and for usually siring it.
CJ's pedigree is brimming over with good trotting Arabian horses so it is no surprise that he inherited this very desirable motion.
Although still only 5 years old (as of 2011), CJ has already proven himself as a sire with two beautiful and high quality young sons. Angela Lewis bred and owns the dazzling chestnut Sb Lethal Weapon (x Sun and Snow), foaled in 2009, and Janice Siders bred and owns the exquisite bay The Most Wanted (see his section under "Stallions and Colts").
With Permission from the Author, Carol W. Mulder. Copyright © 2011 by Carol W. Mulder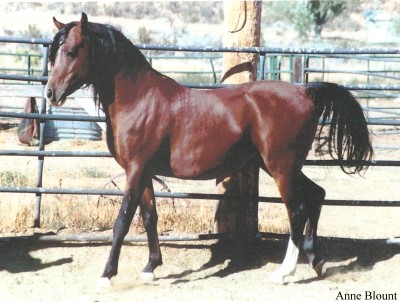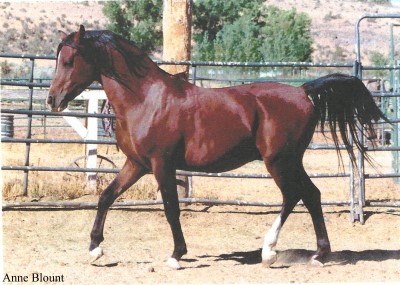 Pedigree for Sb Criminal Justice
Sire line: Barq
Family: Rodania
Sire
RABBA BARON 353597
c 1985
Sharon Pardo
California
BEN RABBA 29921
c 1964
K. D. Mathiot
California
AURAB 12488
c 1957
AULANI 1801
RIFNAS 924
FOLLYAT 827
RABNA 3622
NARZIGH 1745
RABKHAL 1402
ROLLICKA 15286
c 1959
SAROLLE 6171
RALLAF 2366
SARIFAH 2570
COALANI 8419
AULANI 1801
NARLAH 916
BAY-KAREL 117228
c 1973
Mary McBay
California
BAY-ABI 12335
b 1957
ERRABI 5473
ARABI KABIR 2379
FERDIRAH 928
ANGYL 4824
*RASEYN 597
*WIERNA 3935
GAZLOWA 24127
c 1963
FARLOWA 8545
ABU FARWA 1960
FARLOUMA 2345
GAZYA 2588
SIKIN 964
RABIYAT 577
Dam
STAR OF ROYALTY 518009
b 1994
J. M. Siders
California
THE NIGHT STAR 429131
b 1989
V. Spicher
California
NIGHT DRAGON 285176
c 1983
BEN RABBA 29921
AURAB 12488
ROLLICKA 15286
AURZEYA 122236
AURAB 12488
MARZEYA 30790
OUARZAZATE 197345
b 1979
SX SALADIN 63310
*SERAFIX 8955
COBAH 9357
BINT DHUSHARA 93342
DHUSHARA 63182
STARLA 25336
DYNASTY ROYALETTE 82463
c 1972
Dynasty Arabs
California
ROYAL BINIS 20101
c 1961
BINIS 3050
ISLAM 1709
BINNI 1815
HAMNAN 7278
MUALLIM 2591
ATA AIA 2630
MISS FARWA 32471
c 1965
AZREK-SKOWRONEK 8987
ANTEZEYN SKOWRONEK 5321
WAFA EL SHAMMAR 6406
TARI SABA 12108
ABU FARWA 1960
HUMR-RUS 8091
Go Back
---

Home

History

Stallions & Colts

Mares & Fillies

For Sale

Reference Horses

Books

Links

Contact Me
---
Janice Siders (925) 275-1955
Diablo Vista Arabians
Website built and maintained by Azria Arabians
---